Cross the bridge in Astoria, Queens and meet an authentic Italian restaurant called VIA VAI. Owned and operated by Chef Antonio Morichini who hails from Rome, restaurant goers are invited to experience food that stems directly from the roots of Italy. Fresh handmade pasta and so much more wait for you to enjoy and celebrate in their warm and inviting dining space.
VIA VAI Restaurant in Astoria also celebrates being recommended in the 2019 and 2020 Michelin Guide for their authentic Italian cuisine and curated cellar. It comes as no surprise as Chef Morichini is very hands on with his business. He personally makes each dish, including handmade pastas on a daily basis every morning.
His culinary background includes working as a sous chef and chef de cuisine at a number of Michelin-starred restaurants. These restaurants include II Convivio Troiani, Glass Hostaria, and Acquolina.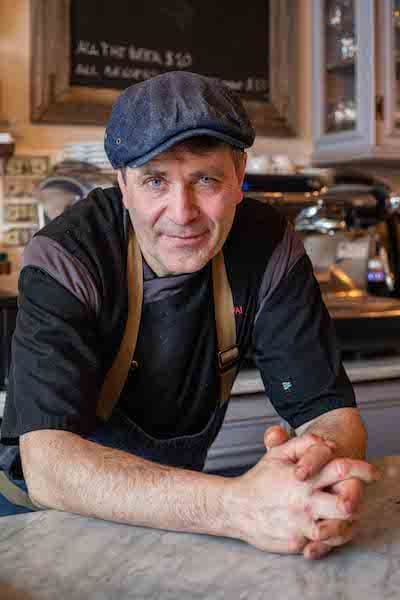 VIA VAI Menu
Their portions are exactly as they should be: wholesome and satisfying. Roman style pastas include Tortello di Brodo, tortello stuffed with chicken broth and finished with parmigiana fondue, lightly dressed with truffle sauce and a marsala wine reduction; and Mezzi Paccheri Alla Gricia that uses imported mezzi paccheri (gragnano gold selection) with cured pork cheeks, onion, black pepper and dusted with pecorino Romano cheese.
Mezzi Paccheri Alla Gricia is very popular on the street corners of Rome. It is made with pasta similar to rigatoni in the traditional Roman style. Tortello is a filled pasta similar to ravioli.
The Risotto of the day, which rotates regularly, was the Scallop, Mushroom & Truffle that was very aromatic and perfectly portioned. Our favorite pasta dish was the Tonnarelli Cacio Ai 4 Pepi: house made tonnarelli with pink, green, white, and black peppercorn pecorino and parmigiano cheese. Tonnarelli is a touch thicker than traditional spaghetti but not as thick as linguine.
In addition to their pasta selection, notable main courses include Anatra: duck breast served with hazelnuts, mashed potatoes, and a blueberry and raspberry reduction; and Costolette: mildly spicy braised beef short ribs with creamy gorgonzola polenta.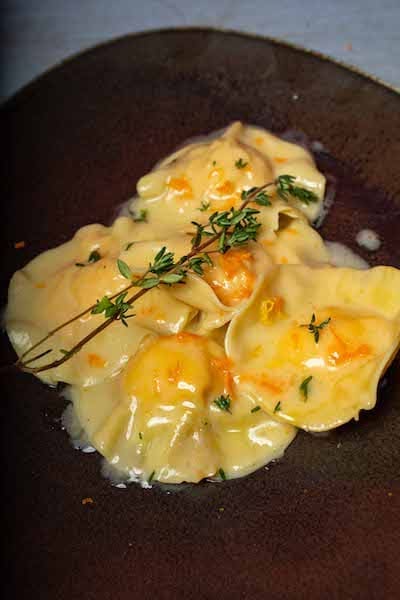 Two must-have dishes, either as starters or as sides are Polpette and Bresaola. Polpette is the perfectly portioned beef meatballs dish covered in thick tomato sauce. Bresaola is an artful presentation of cured beef rolled and filled with creamy robiola cheese with chives and the subtle crunch of pistachios, served in a bed of sprouts with black truffle sauce (header image).
Wine
Their 100% Italian wine list curated by Chef Morichini with offerings by the bottle and by the glass. The menu spotlights over 50 selections with 14 by the glass. Guests will come in and experience tasting lesser-known bottles from different regions of the country. Chef Morichini's goal with his wine list is to inspire his guests to think outside the realm of everyday selections. Our selection, for example, was their recommended rosé: Chiaretto del Garda 2018 that was particularly fruity and delicate. An eye-catching marble bar in the front which displays their wine collection proudly.
Desserts at VIA VAI
Dessert is simple and sweet at VIA VAI, and very much worth trying. Tiramisu was our selection, served in a footed martini glass. Guests can also indulge in panna cotta or their selection of gelatos, which are all made from scratch including flavors like hazelnut, pistachio and chocolate. The pistachio gelato is calling my name for my next visit.
Hours and Useful Information
VIA VAI in Astoria is open seven days a week. The nearest subway station is Astoria-Ditmars Blvd. via the N and W trains. The restaurant is just a short walk around the corner from the station.