Just in time for National Chocolate Day (October 28th), Vosges Haut-Chocolat has debuted two new collections for celebrating all things chocolate, and for the upcoming holiday season.
First, there is The Healer Collection that includes a luxurious collection of magically inspired chocolates. Second is the Ritual Collection. Each Ritual box contains an assortment of chocolates, a crystal pairing, a ritual and intention card, and other ritual-based tools.
Vosges Haut-Chocolat, a high-end chocolate company based in Chicago, reminds us this holiday season to celebrate those around you as well as ourselves.
After a deeply personal and tragic experience, Vosges founder and CEO Katrina Markoff was able to harness the power of positive energy and create these collections to help remind others to be mindful, positive, and use their own healing powers to help others.
Vosges Haut-Chocolat reminds us to be thankful for all of the good that life brings us, no matter how challenging things may be.
We love seeing that many of your chocolates and truffles are vegan, gluten free, and paleo. Why is this so important to you?
I tend to eat very clean and always add in the newest superfoods. These superfoods are the inspiration for the innovations we've done lately in creating cleaner options for our guests.
We have recently created a new form of ganache using only dark chocolate and early harvest olive oil. Both ingredients are rich in polyphenols and support healthy heart function. By utilizing these ingredients to make ganache, as opposed to traditional cream, we have created a new plant-based ganache this mindfully indulgent. 
Why are the specific characteristics and ingredients of your chocolates so important?
Ingredients are where everything starts at Vosges. The quality of what you put into a product can only be excellent if you start with the best ingredients. At Vosges, we focus on our superior sourcing initiative, which includes looking for the best craft ingredients that have sustainable and/or organic components; as we are always seeking the finest raw materials to align with our superior premium products.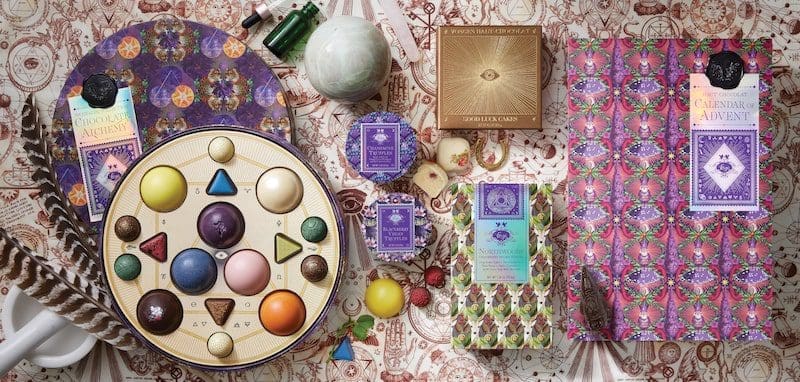 What challenges did you experience with organizing and implementing all that you have learned in your international cacao travels? How did you incorporate what you learned into your brand model?
One of the coolest discoveries we have found is a source for the cacao berry fruit and fiber. The fruit of the cocoa pod, or the white flesh, is typically discarded. However, through my travels, I found that locals eat this delicious fruit and keep the cocoa beans to ferment. This was an incredible find because we're now utilizing the fruit and the natural fibers within the fruit to add to our chocolates in lieu of sugar. Our clients are not only getting a better product with healthy ingredients like fiber, but we're even more sustainable by not discarding the fruits.
From a global perspective, I would have never known that the fruits were being eaten by locals and had so much fiber, if I weren't on the ground to discover it myself. It's really incredible to utilize the entire cocoa pod for its many benefits, including fiber and its natural sweetening abilities.
How would you describe your perfect day dedicated to chocolate?
I would clear my calendar and start my morning with a cacao ceremony. I'd look to harness the power of dark cocoa to help increase my blood flow, open my heart chakra and meditate on positive outcomes. Consciousness is proven to manifest in material outcomes, good and bad so choose your thoughts wisely.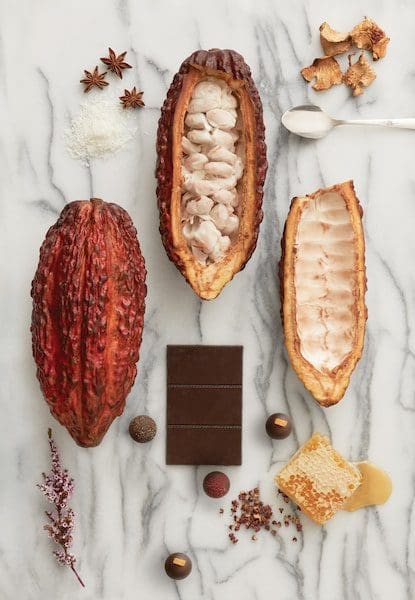 Which are the predicted best sellers for the holidays?
The Healer and Ritual Collections are already our top 2 best sellers, and they just launched today! People are wanting to heal themselves and others, and are sending gifts of prosperity during the unprecedented time we're living in are a bit gift. The self love, new beginnings and prosperity rituals are already popular. Everyone can use them to harness and channel mental nurturing and calm during this time. 
What are some out-of-the-box ideas for incorporating chocolate into the holidays, besides gift giving?
I've been working on incorporating our chocolates into cocktails and mocktails. For example, if you pierce a chocolate truffle place in the base of a glass with a cocktail pick and pour your cocktail over it, you not only enjoy your cocktail, but your chocolate bathed in the mix is a great pairing.
I also like to encourage others to write their intentions on a card and put the chocolate on top of the intention. Then, walk away and let the chocolate manifest their intention(s). It's really fun to step away and see how the chocolate tastes after you manifest your intention.  You can essentially taste the energy you put into the universe, come through the chocolate.