There are endless reasons why I never wanted to leave Casa Edwards, one of the luxury villas that is part of the Blue Desert Cabo portfolio. Apart from being a grand private estate in a gated community set on the water with awe-inspiring views of the Sea of Cortez, it is a property that is maintained with such attention to detail. Every aspect goes above and beyond expectations.  
Blue Desert Cabo, launched in early 2019, welcomes travelers from all over the world to their collection of villas. A vacation destination for everyone, from families and groups of friends, to weddings and reunions, Blue Desert wrote the guide on how a vacation to Los Cabos should be.
Each villa has its own distinctive personality and characteristics. Each property also allows their guests to create a completely one-of-a-kind, bespoke itinerary for everyone. From morning yoga classes, to a customized menu, outdoor sporting activities, to a grand fireworks display, nothing will be out of the ordinary for this attainable luxury getaway. 
Casa Edwards Amenities
Casa Edwards is one of the largest private estates in Los Cabos. It is located approximately twenty-five minutes away from Los Cabos International Airport in the gated community of Bahia Rocas next to Villas Del Mar at Palmilla, just at the tip of the Baja Peninsula.
The 12,000 square foot villa features eight bedrooms and eight and a half bathrooms and can accommodate up to sixteen guests. Amenities inside the bathrooms include air conditioning, a safe, minibar, hairdryer, and en-suite bathroom with shower. Some of the bedrooms have their own terrace and ocean view. Their sea turtle branded towels are so soft to the touch. Guests will be spoiled with Bvlgari bath products, and they have their own Lavender-Orange white clay soap by Tierra Baja Natural.
Custom designed tiles that evoke the theme of the desert meeting the sea are found inside the bathrooms and on the walkaways, and tables together with handcrafted Mexican accents throughout. 
The 6,000 square foot main house features a large living room and dining room with a seventy inch Plasma TV and a bar just opposite the living room. Step down into the dining room that is easily accessible from two separate doorways leading outside. There is also a full outdoor kitchen area with a large umbrella, and a Palapa cover-bar with its own television. 
Entertaining
Casa Edwards is the perfect villa for hosting parties and large gatherings. There are two fire pits, heated Jacuzzi, day beds, a lawn area that could fit up to 100 people, a beach bonfire, a charcoal BBQ grill, and of course a heated swimming pool. Always included is a property manager and maid/laundress to assist you during your stay. Additional staff members are available for hire upon request.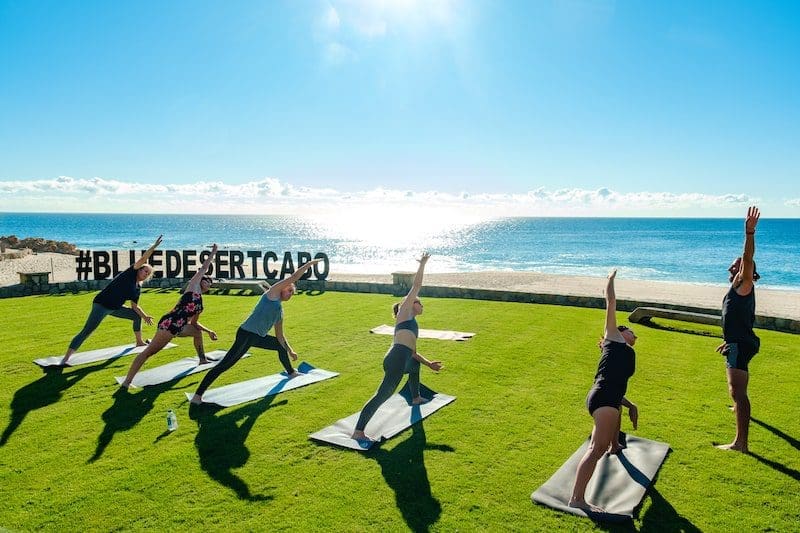 The Gym
Their 4,400 square foot gym is just steps away from the water.
As the largest private gym in Cabo, it features more than ten screens and every bit of fitness equipment you could think of. Boxing? Rowing? Weight training? Cardio? Martial Arts? Ropes? Bring it all on right here! Bring your own iPod or iPad as the staff will be able to connect them to their sound system. 
Food & Drinks
Start the day with breakfast al fresco. Enjoy a wide selection of fresh fruit, pastries, and main dishes like spicy Huevos Rancheros or French Toast made to order. Coffee, tea, espresso, cappuccino, or even mimosas are available upon request. A staple breakfast choice is their specialty green smoothie* (find the recipe at the end of this article). 
For snacks, granola bars and fresh fruit are available to enjoy in between meals. The ladies of the house also whip up the best guacamole and pico de gallo with warm, gently toasted chips. 
For lunch or dinner, your own private chef can come in and cook any meal you desire. Popular selections include lobster tacos with black beans and duck enchiladas. The duck enchiladas are a twist on a Mexican staple, rather than your typical chicken enchiladas. For dessert, my particular favorite was the homemade apple tart with vanilla ice cream by Chef Manolo.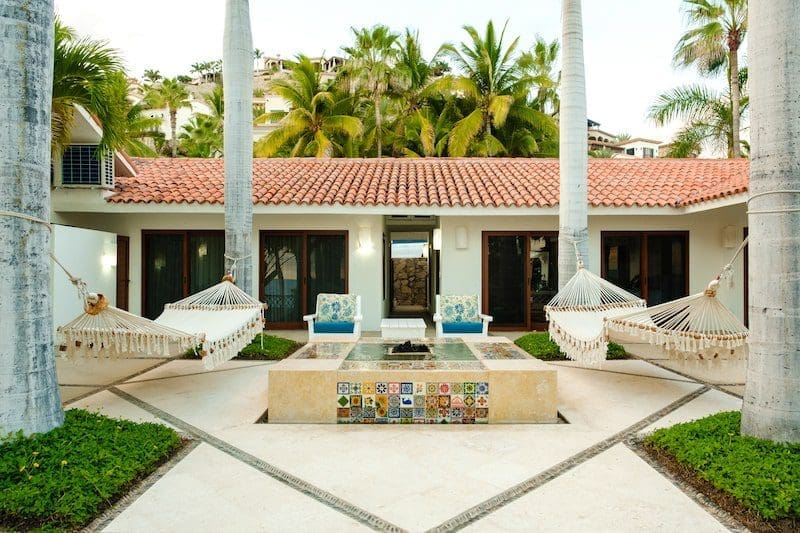 Leisure Activities
Begin the day with an invigorating walk on the beach or swim in the water. Paddleboards are available for your use as well as snorkeling gear. Start the morning with sun salutations with your own private yoga class. Have a workout with your own personal trainer, have an hour-long massage down by the beach, or take a cooking class onsite with your own chef. We learned, for example, how to make the best guacamole with chopped onion, a drizzle of olive oil, and cilantro, among several other dishes. 
Personalization
Arrange in advance to have the team at Blue Desert Cabo create personalized gifts and amenities for your guests to take home with you. Everything from their own monogrammed bathrobes, cookies, glassware, tote bags, and so much more. Every detail can be customized to your exact specification and liking. Why not end the day with a bonfire paired with your own fireside cocktails, followed by a private, over-the-top fireworks display? Anything and everything you can dream of can be attained at Blue Desert Cabo.  
Nearby
Activities in Cabo San Lucas and San Jose del Cabo are full of endless possibilities. Spend the evening strolling through the historic Distrito Del Arte in San Jose after a full day on your own catamaran cruise with Cabo Adventures. There are also several notable nearby restaurants that are a must visit including Acre in the foothills of San Jose del Cabo, and Casa Don Rodrigo for the ultimate plate of artisanal fettuccine alfredo!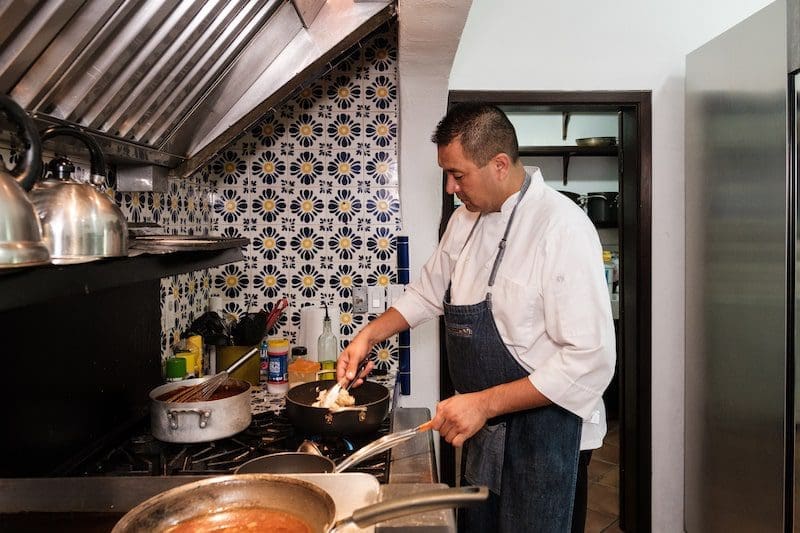 The Staff
The professional staff of each villa are well equipped and eager to offer guests the experience of a lifetime; one they will want to revisit again and again. Carlos, the Villa Director, took the time to create bespoke pastries for each of us, including macarons, tarts, and cookies that were each hand painted and crafted at a local bakery. 
When you arrive and when you are off to your excursions and day-to-day off property, your own driver may pick you up in an Escalade and drive you to your day's destination. 
The staff members are fun, friendly, and always were wearing a smile during our four-day experience at Casa Edwards. 
The Villas
Blue Desert Cabo is all about creating bespoke experiences for guests. The emphasis is always on top amenities and the best in its class when it comes to concierge service and staff, creating the best and ultimate vacation experience. 
Founders
With bi-national and LGBTQ owners, Blue Desert Cabo is fully focused on providing a luxurious, all-inclusive, and welcoming experience for everyone. Co-Founders Juan Ramon Guevara and Sean E. McClenahan have brought the philosophy of Blue Desert Cabo to life with their expertly trained concierge team paired with some of the most breathtaking properties in Cabo.
Guevara, a native of Mexico, first developed his interest in real estate in 2006. Soon after, he was introduced to McClenahan, a licensed attorney and COO of a family office real estate and investment holding company based in Las Vegas, Nevada. Over time, they developed a mutual friendship and saw an opportunity to open their own boutique real estate firm. It was then that Blue Desert Cabo was born. 
Plan your destination wedding, family reunion, friends vacation, and more with Blue Desert Cabo. 
@BlueDesertCabo
The Blue Desert Cabo Green Smoothie
Ingredients
1 handful of fresh spinach
2 frozen bananas
½ cup whole almonds
A splash of water
2 T (tablespoons) peeled ginger
1 cup ice
1 T honey
Directions
Blend all of the ingredients together until smooth. Enjoy! Serves 2.