We never wanted to leave our trip to Blue Desert Cabo behind. So it comes as no surprise that we cannot stop thinking about this one-of-a-kind attainable luxury destination in Los Cabos. Blue Desert Cabo boasts a collection of opulent waterfront villas and rental properties in Cabo that are ideal for families, groups of friends, and couples alike.
We could all use a wellness focused vacation to rest and recharge after experiencing times like these. As stated by the co-founder of Blue Desert Cabo, Sean McClenahan, "once Los Cabos is open to tourists again, trending vacations will be ones that allow us to forget and escape. A spa weekend in Cabo, a girl's or guy's getaway, a gaycation. Create your dream trip where you forget what you have been going through."
Blue Desert Concierge
Let Blue Desert Concierge take care of the details when it comes to planning. "The last people want to think about is planning a vacation," adds McClenahan. "We can bring everything to you. Even though restaurants and hotels are [currently] closed, everything can be brought to you. This allows for a great escape after this passes with that feeling of knowing you have that personal, door-to-door, service." This convenience is especially important if you still have reservations about going to potentially crowded or full spaces outside of the villas.
How about a golfing trip combined with a fishing excursion? Guests can come home and have a private chef cook for you what you caught fishing. Think ceviche and sashimi appetizers, followed by grilled fish for dinner, sashimi. "Enjoy Margaritas by the pool or a rose day," notes McClenahan. "For a girl's getaway, we can have massage therapists come to your villa, followed by you enjoying manis and pedis. Create the escape and have a great time."
To make your planning even simpler, Blue Desert Cabo is putting packages together in order to make it a one click shopping experience. You pay for the house in advance, for example. "In Cabo, you don't need any money except tips and go out to eat," says McClenahan.
"Blue Desert Cabo is quickly becoming an elite bucket list destination in Mexico."
Before you are ready to plan your next getaway, take this time to reflect. "We want to help people travel easier," notes McClenahan. "The packages we offer are meant to make travel simpler. And, when you reach out to book your next vacation, you may receive special pricing on certain homes. Just be sure to ask about #readyforloscabos special return to travel rates."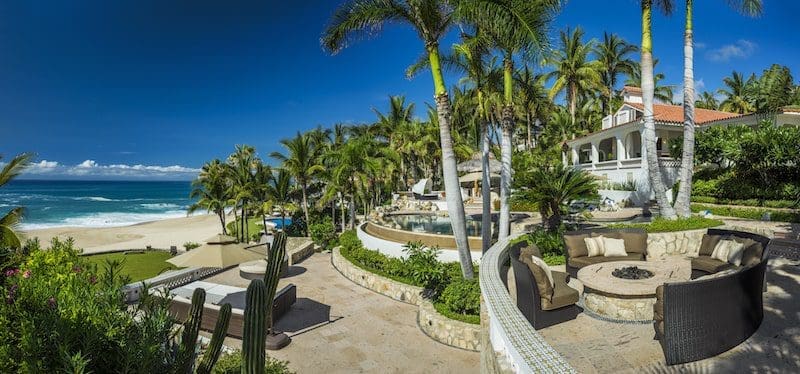 Wellness Retreat Package
Packages are customizable and can include the following, like these amenities in their Wellness Retreat Package*:
Daily beachside yoga
Guided meditation
Private facial and massage at the villa
Guided hike at Mt. Solmar
Kayaking and paddleboarding excursions
Private chef for the duration of your trip to make healthy meals for you and your guests
And much more!
*Package starts at $500/person plus price of villa.
Our favorite package is The Foodie Tour*:
"Feed Your Fanta-sea" and embark on the ultimate foodie adventure. The package includes:
Immersive cooking class with a local chef at your villa
Private mezcal tasting and chef's table dinner in Acre's Blue Room
Cooking class at Acre
Cooking class at Flora Farms
Private chef meal and wine pairing
Reservations at Cabo's top culinary destinations such as Acre, Flora Farms and Casa Don Rodrigo
Fishing trip where you catch the fish you eat for the evening
*Packages are customizable. The Foodie Tour package starts at $750/person plus price of villa. It can be combined with others packages.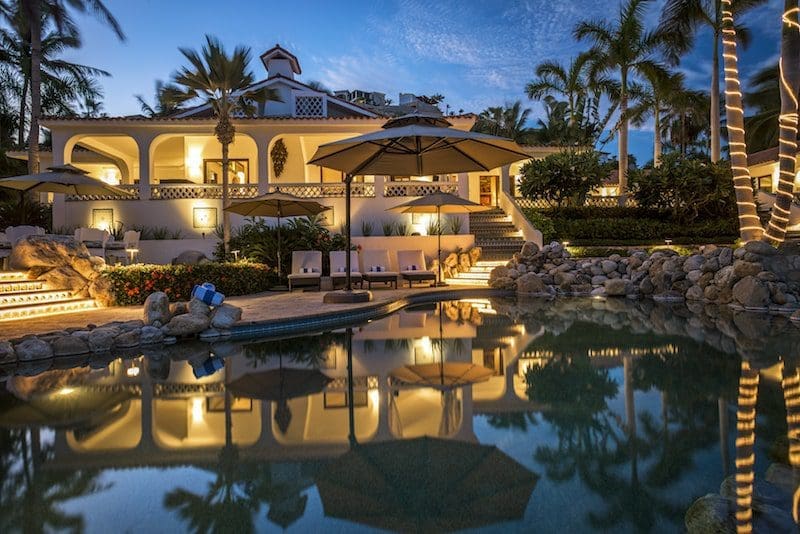 "Cabo is beautiful [ideally] until July 4th. Then, the first week of November is when the seasons ramps up again," adds McClenahan. "People are going to want to get out, and they are also going to have to get out for the sake of wellness and recharging the mind. It is the [combination of] sun, sand, and top notch service that you would get at a villa in Cabo."
Blue Desert Cabo is quickly becoming an elite bucket list destination in Mexico. Their bespoke approach to travel is remarkably unique. Discerning travelers are able to curate itineraries that include dream-worthy amenities and once-in-a-life time experiences.
Our best guess is that you will fall so madly in love with their collection of properties; you will want to return again and again.