Flour, yeast, sugar, water, oil, molasses, honey. These simple and easy-to-find ingredients create delicious, nutritious bread. And, with the guidance of the local nonprofit organization, Slow Food East End, even people with no previous experience are learning to bake and, in turn, helping to fight food insecurity within their East End community.
The "Flour Power" initiative arms amateur, volunteer bakers with the skills they need to supply local food pantries in Hampton Bays and Riverhead with bread. The program was created by Slow Food East End last year, inspired, in part, by the circumstances of the pandemic. Demand for food pantry services increased as a result of the hardship, while at the same time, area residents had a newfound interest in home cooking and other "slow living" activities.
"We thought it was a wonderful opportunity to match volunteers with a need in the community," said Pennie Schwartz, Slow Food East End chair. Slow Food East End, is a local chapter of Slow Food USA – a grassroots organization that believes in "good, clean and fair food for all," and which operates nationwide programs and supports a network of local chapters to host educational events and advocacy campaigns.
It's the Yeast We Can Do
In the first year of the campaign, Slow Food East End engaged approximately 40 volunteer bakers and donated more than 700 loaves of bread to local food pantries, including North Fork Spanish Apostolate in Riverhead.
Using a delicious, nutritious and easy recipe created by Slow Food board member David Chaffin of Hampton Bays, an experienced baker most recently from Amy's Bread, a renowned bakery in NYC, volunteers bake four loaves and donate three. This year, the organization hopes to double the dough output expand to more food pantries in the area.
"I'm honored to volunteer for this cause," said Chaffin. "It's rewarding to introduce others to the joy of baking, and to make a difference in our community. The combination of simple, organic, whole food ingredients, basic culinary skills and care for the people around you can create meaningful change."
Corporate Commitment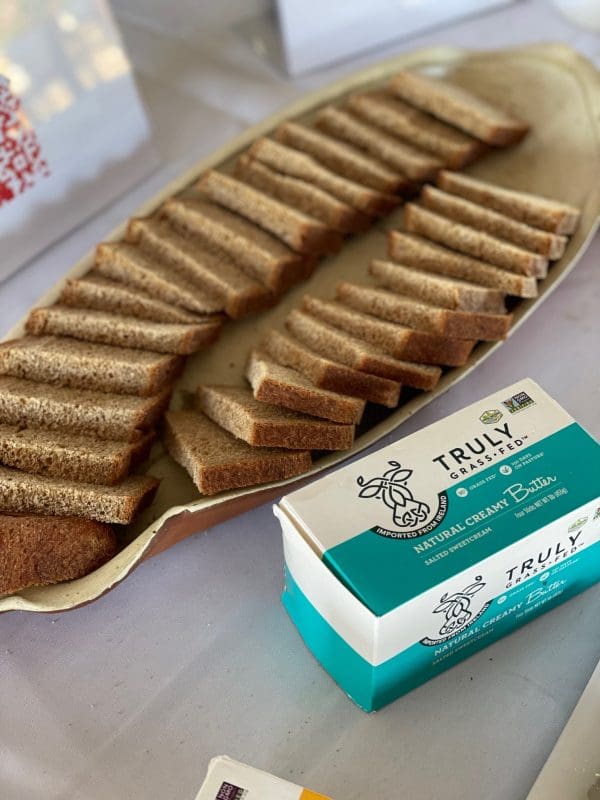 Slow Food will have additional support for Flour Power this year from a new partner. Truly Grass Fed, a brand of sustainably produced Irish butter and cheese. The brand donates to Slow Food USA through its membership in 1% for the Planet and saw a natural fit for its products in the local charitable endeavor.
"Nothing pairs more beautifully with fresh baked bread than wholesome grass-fed butter and cheese," said Nicola O'Connell of Truly Grass Fed. "We share Slow Food's belief in creating food that is better for its makers, the people who consume it and the planet." In support of Flour Power, Truly Grass fed will donate cheese and butter to both the volunteer bakers and the benefitting food pantries.
In Knead of Volunteers
Those who want to support this worthy cause can get more information, or sign up, by visiting slowfoodeastend.org and click on the Flour Power link under "Programs." Slow Food East End will email volunteers the bread recipe and a "how to" video as well as instructions for dropping off loaves.
Bakers do not need to be Slow Food members to participate in Flour Power.
"Flour Power has been so rewarding," said Schwartz. "It provides a new skill, encourages people to break bread with the people they love, and it meets a very real need in our community. We hope that we inspire more to join us in the effort."
More Than Just Bread
In addition to Flour Power, Slow Food East End hosts other events throughout the year. Community members are invited to join in-person and virtual events like Walk & Wines where members gather to drink local wine and learn about local ecosystems and a virtual Chef Series, in which renowned chefs and bakers host cooking demonstrations for participants.