New Jersey, also known as The Garden State, is sprinkled with many pretty small towns that offer the perfect escape from New York City or Philadelphia, respectively. These towns are beaming with historical buildings, art galleries, cultural centers, museums, and award-winning restaurants and bakeries. We have curated a list of some of the most beautiful and charming towns in New Jersey. These towns make for the perfect weekend getaway spot for families and couples alike.
Asbury Park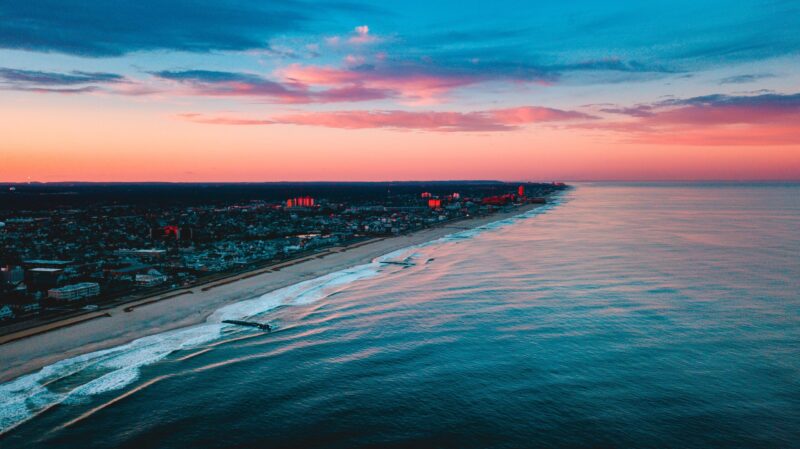 There is plenty of beautiful towns and cities in New Jersey, but none can compare to the ones that sit next to the Atlantic Ocean such as Asbury Park. This small city is known for its idyllic scenery and lively atmosphere, especially near the boardwalk. In the summer, the sandy beach attracts people from every part of New Jersey to come and enjoy its refreshing water.
Though you won't find anyone swimming in the cooler months, there are still plenty of residents strolling down the boardwalk, taking in the sweeping views and therapeutic sea air. On the boardwalk, you will also find plenty of restaurants, cafes and arcade shops.
Asbury Park also has plenty of history. From the Silverball Retro Arcade with machines dating back to the 1930s to music venues that hosted Bruce Springsteen and Bon Jovi, visitors will find plenty of things to do there.
Asbury Park is located an hour away from Trenton and Newark, so it is not too difficult to get to if you have a car. Though it is possible to visit as a day trip, some do decide to stay for a night to fully embrace the atmosphere. If that is the case, staying at Asbury Ocean Club is a must.
Finally, don't forget to dine at Moonstruck! The live music and extensive wine list will make you fall in love.
Cape May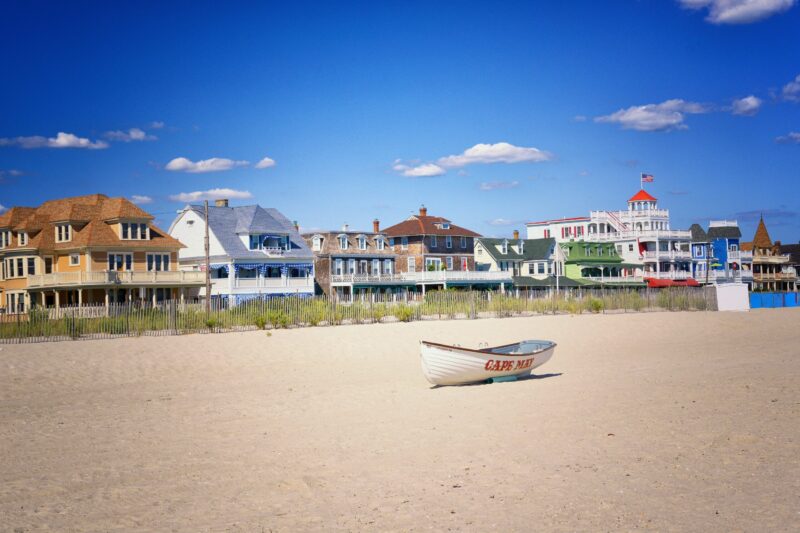 This beautiful seaside city and resort town is located at the southern tip of New Jersey's Cape May Peninsula. This charming town is just 90 minutes from Philadelphia and one hour forty-five minutes from Wilmington. There is also the Cape May-Lewes Ferry that travels between New Jersey and Delaware. Two of the best times to visit Cape May are during the Christmas holiday season and during July and August when summer is in full swing.
Known as America's Original Seaside Resort, Cape May is most known for their grand, historic Victorian homes that line the quaint streets. Emlen Physick Estate is Cape May's only Victorian House Museum and offers guided tours, free onsite parking, free scavenger hunts, and more.
For those who want to explore Cape May, walking is the most convenient way to get around. Biking is a favorite pastime among visitors and locals and another easy method for getting around. There are local companies who offer bike rentals on a daily or weekly basis.
Activities to check out while in town include the free Cape May County Park & Zoo, participating in a ghost tour, whale and dolphin watching, plenty of watersports, visiting the theater, and touring the wineries, breweries, and distilleries. There are also several dog-friendly activities like the Cape May Whale Watcher and visiting the Sperlak Gallery & Sculpture Gardens.
Restaurants to visit in Cape May include Provence, Iccara Italian Bistro, Bella Vida Garden Cafe, and Aleathea's.
For overnight hotel stays, look to Congress Hall Hotel, The Chalfonte (Cape May's oldest original hotel), and The Wilbraham Mansion. There are also several charming bed and breakfasts, and guest houses.
Cranbury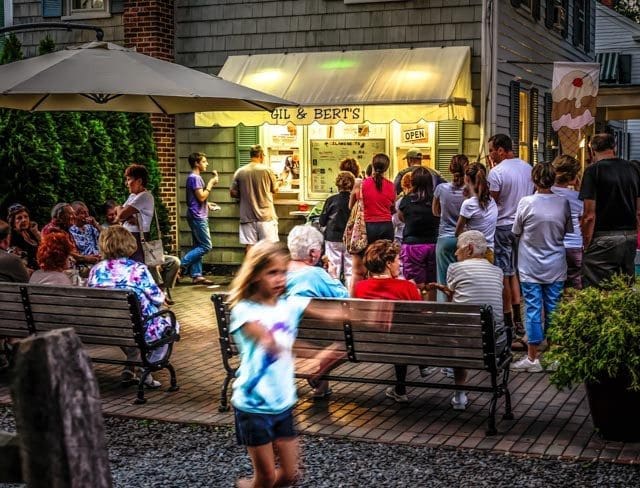 This beautiful New Jersey town is located at the heart and center of the state, equidistant from Philadelphia and New York City. Cranbury is also one of the oldest towns in New Jersey filled with historic character and preserved farmlands. Cranbury is home to scenic woodlands and opportunities to engage in a variety of outdoor activities and sports. These include fishing, camping, archery, hunting, and hiking.
The village of Cranbury is home to a vibrant restaurant scene with a number of fine dining experiences, bakeries, delis, and cafes. Some of the notable restaurants in Cranbury include Teddy's Luncheonette, Zinna's Bistro, The Cranbury Inn, and Lido Sushi Asian Bistro.
Cranbury also has a selection of antique shops, jewelry stores, boutiques, and florists that line the historic streets of downtown square. There are walking tours for visitors along Main Street through the National Historic District. Those on the walking tour will be in awe of the beautiful architecture and picturesque landscapes. One particular site on the walking tour may include the Cranbury Brook site of General George Washington's encampment.
If you are thinking about when the best time of year is to visit Cranbury, the 4th of July Celebration over Brainerd Lake is widely known throughout the state.
Stay overnight at Staybridge Suites that is pet-friendly and features complimentary breakfast, guest rooms with full kitchens, laundry facilities, and an onsite fitness center.
Frenchtown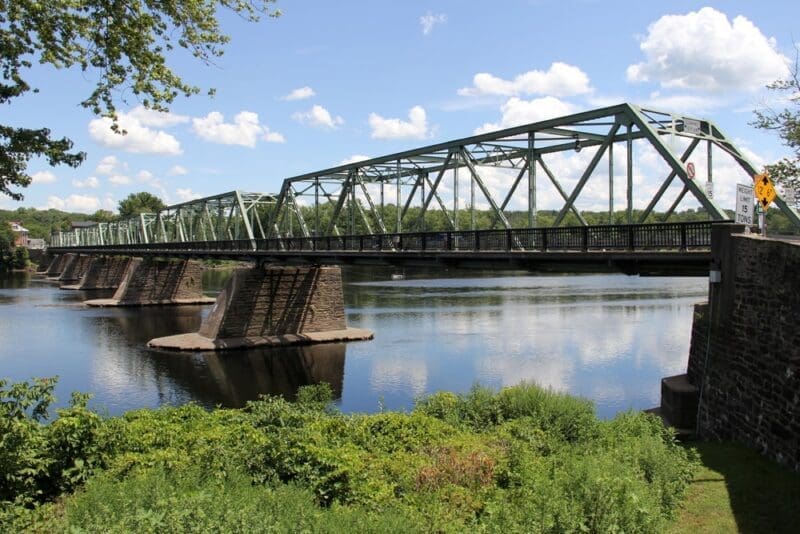 Frenchtown is set along the banks of the Delaware River, about forty minutes away from the state capital, Trenton. The town's bucolic beauty is reminiscent of the English countryside. Frenchtown is the perfect destination in New Jersey for those who love the outdoors. For example, bicyclists can pedal along the Delaware River and all the way to Trenton.
Frenchtown is also a great destination for strolling, shopping, and dining. There are many small, charming shops to discover along with three notable annual festivals. These are Wine and Art in May, Bastille Day in July, and RiverFest in September.
Look to The National Hotel for an overnight stay in Frenchtown. The National Hotel is located alongside the Delaware River in Hunterdon County, just across the river from Bucks County, PA. The hotel also has an onsite restaurant, with a menu inspired by the area's local flavors. It offers an upscale atmosphere and a variety of dishes including small plates and appetizers with exotic flavors and unique renditions of traditional fare.
Additional restaurants in Frenchtown to know are Cocina Del Sol, Bamboo House, and Lovin' Oven.
Hoboken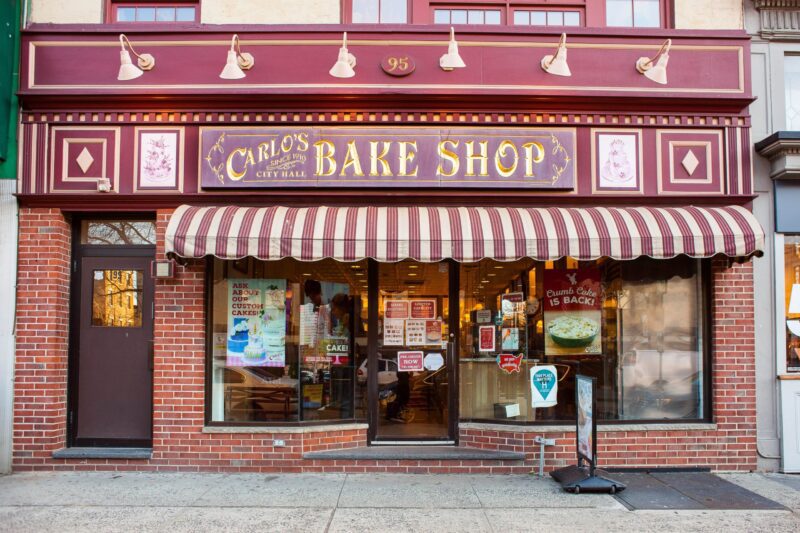 Though Hoboken is a city, there are several sections of this iconic destination along the Hudson River that offer a picturesque and unique charm. Hoboken offers stunning views of the New York City skyline, plenty of food and drink festivals throughout the year, and the most bars per square mile in America!
Hoboken is just ten minutes from NYC via the Holland Tunnel, though with traffic it could take a half hour or more by car. A better alternative is the PATH train that operates from 33rd street. There is a train to Hoboken approximately every fifteen minutes.
Spend your day in Hoboken exploring the outdoors while admiring the views of NYC. Hoboken's Pier A park is a great spot to relax and unwind or play your favorite lawn games. Plus, you get spectacular view of the Empire State Building as your backdrop!
Food and drink festivals not to miss in Hoboken include the Hoboken Mac & Cheese Festival in April, The Hoboken Italian Festival in September, and the Hoboken Bar Crawl in September.
Some of the best restaurants in Hoboken are found on Washington Street and include Augustino's, Amanda's, The Cuban, and Elysian Cafe. Of course, the famous Carlo's Bakery, also located on Washington Street, is now a landmark destination thanks to the hit show, Cake Boss. Carlo's Bakery ships nationwide and to Canada so you don't have to lug your cake, cookies, and pastries all the way home with you.
For overnight stays, W Hoboken is perched right on the waterfront and has an onsite luxury spa, gym, and locally sourced dining options.
Montclair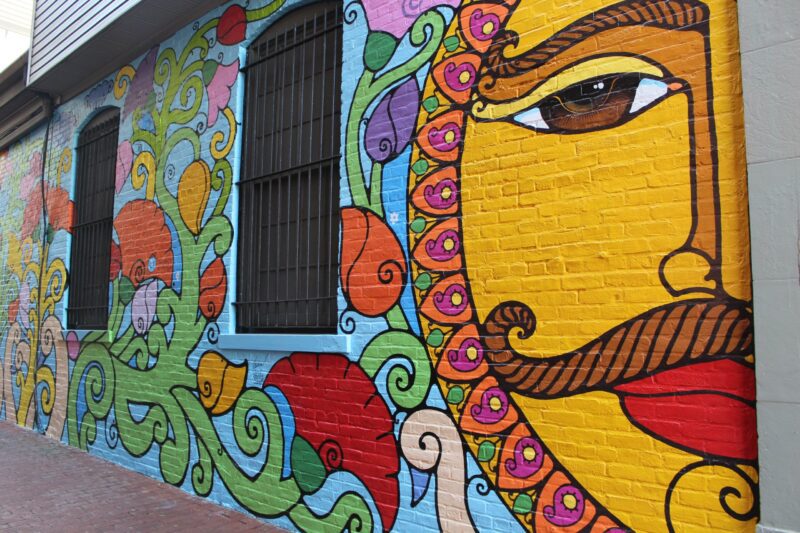 Montclair is a unique and beautiful New Jersey town located just over twenty minutes northwest of Newark. The easiest way to travel to Montclair is via the New Jersey Transit on the Montclair-Boonton Line. Montclair has a total of six train stations. Once you arrive, you will see that this gorgeous town is filled with nature reserves, a thriving art scene, elegant homes, equestrian centers, and plenty of hiking trails and green landscapes.
Montclair is home to six business and shopping districts that each offer unique experiences for visitors and residents alike. For instance, The Upper Montclair business district is home to many Tudor-style shops and restaurants. It is also home to a local cinema that features many independent films. Another great district to visit is Walnut-Grove. This pretty district is home to lots of galleries, restaurants, artisan bakeries, and much more.
Montclair's best kept secret may be the South End district. This district is filled with charming, independently owned shops and restaurants. It is also home to the MLK Peace Garden.
Some of the best restaurants spread across Montclair include Egan & Sons on Walnut Street near Walnut St. Train Station, Samba Montclair near the Montclair Art Museum, and Cafe Moso.
The MC Hotel, Autograph Collection is a chic and sophisticated hotel also located near the Montclair Art Museum. It is within an easy walking distance to several shops and restaurants. The hotel offers an onsite fitness center, an American restaurant, and a rooftop bar.
Princeton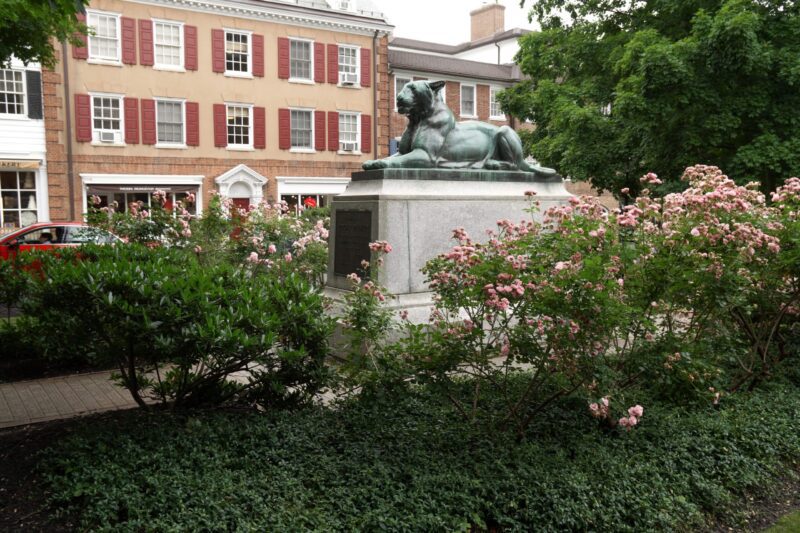 Famous for being the home of Ivy League Princeton University, this NJ town is just over twenty minutes from Trenton and one hour away from Philadelphia. The easiest way to get to Princeton is by train via the New Jersey Transit. Visitors can travel from 30th Street station in Philadelphia via Trenton or directly via Penn Station in NYC.
The beautiful town of Princeton is home to many parks, vineyards, farms, historic sites, golf courses, and so much more. Princeton has several different activities for families with young children, in particular. Some of these activities include Terhune Orchard where they can pick their own fruit, Howell Living History Farm to explore the farm and visit the farm animals, and going to a Trenton Thunder minor league baseball game.
Some of the most notable restaurants in Princeton include Mediterra for al fresco dining, local landmark and legend The Alchemist & Barrister Restaurant & Pub, and Small World Coffee, one of the local roasteries that also offers an extensive food and drink menu.
For a weekend getaway, stay overnight at the Nassau Inn. The Nassau Inn is a luxury hotel in downtown Princeton. The hotel is home to a famous historic Tap Room restaurant and bar. Another excellent hotel is the Princeton Marriott at Forrestal. This gorgeous hotel offers boutique-style comfort with onsite amenities like a spa, fitness center, indoor pool, tennis, and restaurant.
Spring Lake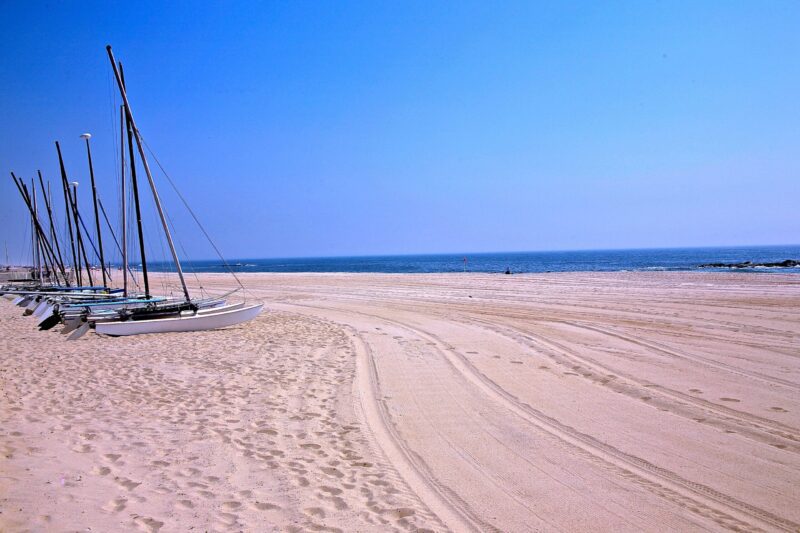 Spring Lake is set on the Jersey Shore in central New Jersey, about one hour twenty minutes from Philadelphia. This beautiful seaside town is well known for its 2-mile beautiful stretch of beach and boardwalk and is perfect for a beach vacation destination.
Spring Lake has a colorful shopping district that features fashionable boutiques, galleries, and several restaurants. Downtown is a short walk away from the boardwalk and ocean. It is also close to an enchanting park surrounding a spring-fed lake.
Notable cultural events throughout the year include performances at the historic Community Theater as well as downtown festivals and events. These are the Irish Festival in June, the Summer Sidewalk Sale in August, the Italian Festival in September, and Christmas Train Village beginning in late November.
Restaurants to visit in Spring Lake are Arugula Modern Cuisine, The Breakers Hotel, and the local favorite, Marigold Market & Cafe.
There are several beautiful hotels in and near Spring Lake. Ones to know include Chateau Inn and Suites that is within walking distance to the shops, the historic Spring Lake Inn, and The Ocean House Bed and Breakfast & Hotel. The Ocean House, for example, is a stunning property situated between the lake and beach and hosts guests with children over the age of 12.