Murger Hanhan is the restaurant everyone should come to when they travel to London. As London's first authentic Xi'an restaurant, it is home to the irresistibly delicious Chinese Biang Biang Noodles. Biang Biang noodles originated from Xi'an City in the Shanxi Province of China. These super long noodles (12 feet in fact) are just as much fun to eat as they are to photograph and videotape.
Murger Hanhan specializes in regional Chinese cuisine from Xi'an City in the Shanxi Province. This province is located in North China close to Beijing.
Lunch at Murger Hanhan
Coming in for lunch? Make sure you are one of the first groups to arrive. Murger Hanhan gets busy (very) quickly. The service is very fast without being pushy or overbearing, so you have plenty of time to enjoy your meal without feeling rushed.
For beverages, there are a variety of soft drinks, herbal teas, juices, and Aloe Vera water. Go traditional and simple with their Plum Juice. Served in a can, the Plum Juice is perfect for splitting, it also serves as the perfect complement to their dumplings and noodles.
Start with the green tea. Their Ice Peak, local orange soda from Xi'an, is also a beverage to try.
The alcoholic drink selection includes a selection of beer, including Chinese beer, and sparkling sake.
A recommended first course is the Grilled Chicken Gyoza. Then, choose two variations of the Handmade Noodles: Biang Biang, and Spinach (very similar in style to the Biang Biang noodles). You choose from three toppings. For the Biang Biang, choose the tomato and egg; and for the spinach noodles, we recommend the Slow Cooked Beef with Tomato, Egg Sauce & Chilly Oil.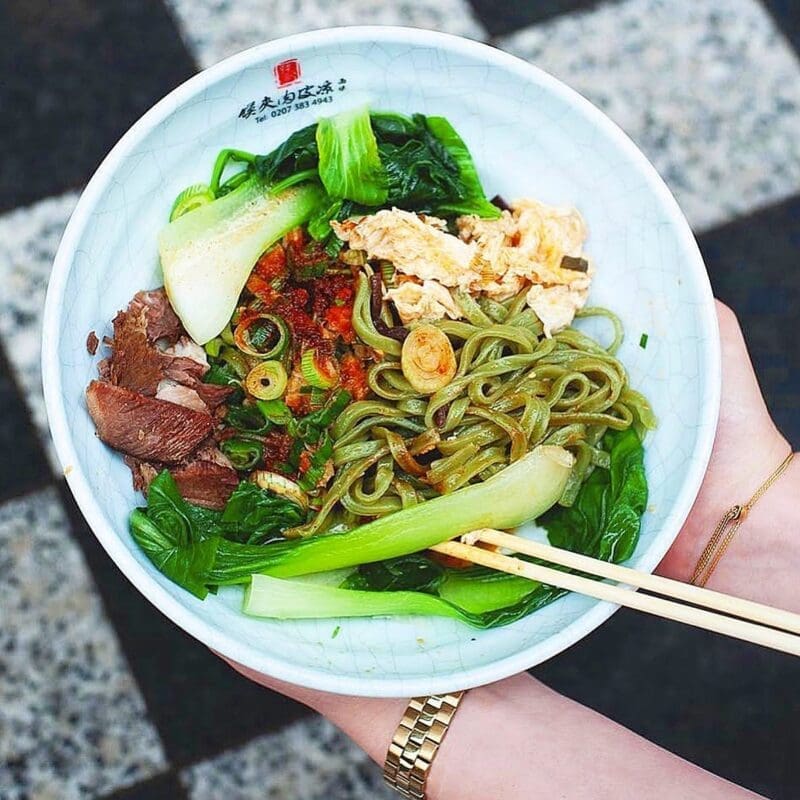 Perfect for hungry customers, there was barely any wait time before ordering and beings served. Depending upon how hungry you are, each bowl could serve two people as the noodles are quite filling.
Though the spinach noodles are very delicious, there is something very special about their Biang Biang noodles. When you visit Murger Han, you may notice that almost every customer around you may be ordering a variation of this bowl of crave-worthy noodles.
Hours and Locations
Murger Hanhan in London is open daily from 12-10pm serving lunch and dinner. They have two locations: one in Euston under the name Murger Han on Eversholt Street, and one in Mayfair, London on Sackville Street.
With regards to their Mayfair location, nearby points of interest are the Royal Academy of Arts, Fortnum & Mason, Hamleys, and Trafalgar Square.