Olveston House is located on the central western coastline of the tiny volcanic Caribbean island that is Montserrat. Montserrat is a short twenty-minute flight from St. John's, Antigua. This quaint plantation-style guest home was once owned by famed Beatles producer Sir George Martin.
The Home of Sir George Martin
Sir George Martin once had a recording studio on the island of Montserrat that he founded named AIR Studios. The music studio opened in 1979 and hosted a number of the world's greatest musicians including Sir Elton John, Sir Paul McCartney, and Eric Clapton. According to AIR's Studios website, they recorded over 70 albums in the ten years the studio was opened. Notable albums included Hot Hot Hot by Arrow, and Steel Wheels by the Rolling Stones. AIR Studios was destroyed by Hurricane Hugo in 1989. Part of the structure still stands today.
Olveston House was Sir George Martin's home in Montserrat since the 1980's. He would visit almost every year for his birthday until his passing in 2016 at the age of ninety. His island home would transform into a guest house and restaurant while Martin was not in residence. The guest house and restaurant still serves traditional English cuisine with an essence of "Caribbean flair."
You can view original photos of The Beatles on the hallway walls that were taken by Sir Paul McCartney's late wife, Linda McCartney.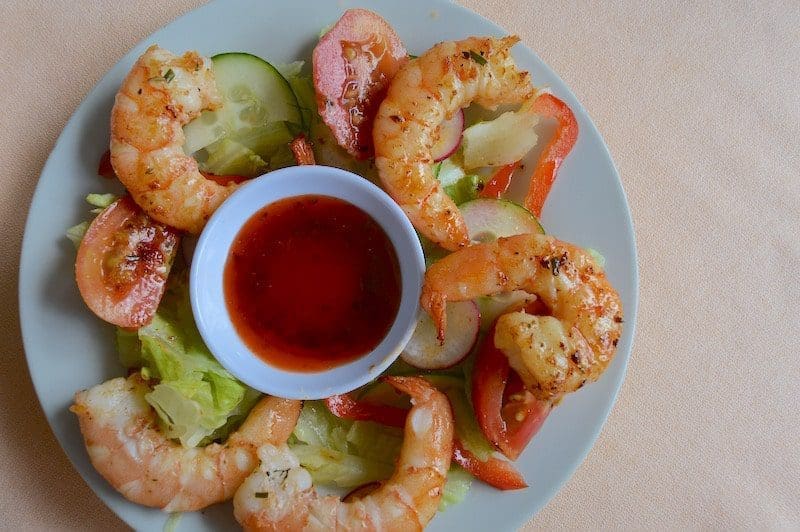 Lunch at Olveston House
Charles Daley of Daly's Tours, recommended eating lunch at Olveston House. The staff was very lovely and accommodating, and acts as a perfect spot to unwind and dine in the tropical tranquility and seclusion that Montserrat is famous for. Make sure you grab a table on their wraparound veranda.
Start lunch with a refreshing and tangy Lime Squash over ice. Lime Squash is a slightly sweet, carbonated beverage with hints of honey and lime, topped with a maraschino cherry.
Enjoy the shrimp cocktail appetizer served with a sweet and sour sauce and vegetables (sliced tomatoes, and cucumbers). The shrimp was succulent, bursting with flavor, and the sauce was magnificent.
A main course choice is the grilled ham and pineapple with a side of rice and steamed vegetables. Another must try with a dose of English influence is the chicken and mushroom pie served with a side salad and coleslaw.
The chicken and mushroom pie has a crispy pastry curst with toasty, warm chicken and a creamy sauce that enrobes each forkful. Additional entrée specials on their board included lamb with mint jelly (only available on Sundays), roast beef and Yorkshire pudding, and salmon and sweet potato fishcake. Locally sourced ingredients are at the heart of each dish.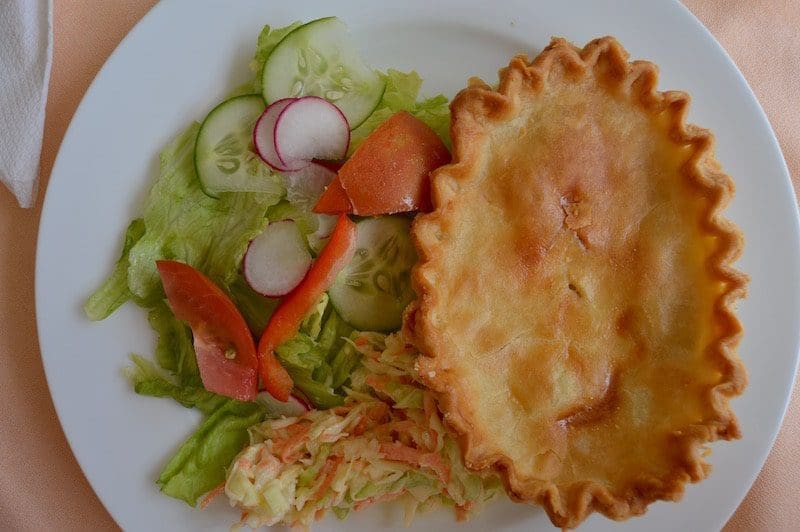 Desserts
Dessert choices may include a Sticky Banana Cake, a comfort classic made with homemade vanilla ice cream and topped with caramel drizzle. Moist layers of sweet and sticky cake will really hit the spot!
Another popular dessert at Olveston House is the Eton Mess. This summertime treat is made of meringue, whipped cream, and fresh berries. Eton Mess is named after a dessert served at Eton College in England's Berkshire County.
Useful Information
Olveston House in Montserrat is open daily for breakfast, lunch, and dinner. Wednesday night includes a Barbeque Buffet. Friday night hosts their informal 'Pub Night'. On Sundays, they offer a Traditional Roast with all the trimmings, or fresh local Fish on the Grill.
After your meal, ask about purchasing postcards to send home to family and friends.