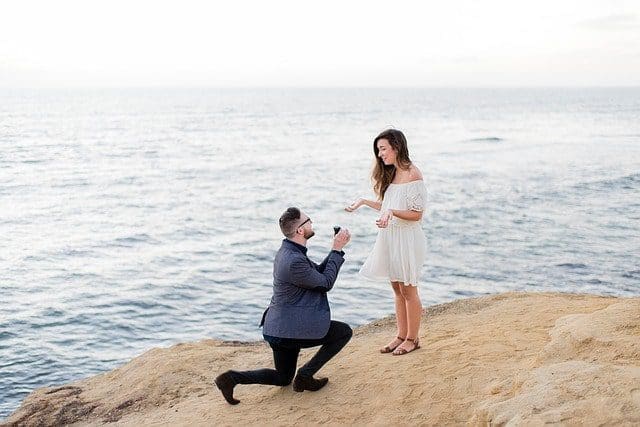 Proposing is one of the most important steps in any relationship. If you do it right, it can be a very special and memorable moment for both of you. If you're planning to propose soon, here are some tips to help make sure everything goes smoothly!
Find The Right Ring 
This is, of course, the most essential step toward a good proposal. You need to look at a variety of engagement rings and choose according to the taste of your lady. It is very important that you find the right ring because it will be a symbol of your love for years to come. You can either go to a brick-and-mortar store or browse through an online jewelry store. Do some research on the different types of rings and metals before making a purchase.
If you are not sure about her taste, then try to get some clues from her friends or family members. They would be more than happy to help you out in finding the perfect ring for your lady love. Once you have found the right ring, it's time to start thinking about how you are going to propose. 
Pick The Time 
It's essential that you choose the right moment to propose. You want to make sure the setting is perfect and that everything goes according to plan. Consider how long you've been dating and how well you know each other. You'll also want to think about whether or not you're ready for marriage.
There are a few things to keep in mind when picking the time to propose. First, make sure it's a special occasion. This could be an anniversary, birthday, or holiday. Second, ensure that you have enough time to plan everything out. You don't want to rush into anything and end up making a mistake. Lastly, make sure both of you are free and available on the day you choose. Proposing should be a happy and memorable experience for both of you! 
Choose How You'll Do It 
Your imagination is the limit when it comes to proposing to your beloved. Here are some popular ideas:
Get a little creative and write your proposal in the sand at the beach.

Hire a skywriter to declare your love in the clouds.

Take her on a hot air balloon ride and pop the question as you're floating among the clouds.

During a romantic candlelit dinner, slip the ring into her champagne glass.

At Christmastime, hide the ring box inside a bigger present.

Proposing during or after a movie can be very memorable since you can always rewatch the film and relive that moment. 
The key is to make sure your proposal is personal and unique to you as a couple. After all, this is one of the most important moments of your life! 
Seek Help from Her Friends
Nobody knows your girlfriend better than her friends. Seeking their help is a great way to get some insight into what she would love. You can even involve them in the proposal itself! They'll be able to help you make sure everything goes smoothly and that she's totally surprised.
They will help you with choosing the ring, setting up the atmosphere, and can even help you write your speech! Getting help from her friends is a great way to make sure your proposal is perfect.
Plan Ahead 
You need to do some planning if you want to make sure your proposal is special and goes smoothly. Give yourself enough time to think about what you want to say and do. You don't want to rush into anything and then regret it later.
This will ensure there are no slip-ups on the big day, and that you can relax and enjoy the moment. For example, if you're planning on proposing during a romantic dinner, make sure to double-check the reservation so that everything is set.
You should also think about what you're going to say. This is your chance to express how you feel, so take your time and choose your words carefully. 
Stay Calm 
Make sure to keep your cool as you plan your proposal. This is a very important moment, and you want everything to go smoothly. If you're feeling nervous, take some deep breaths and remind yourself that this is just another day. You can also try to relax by doing something calming, such as reading or listening to music.
It's also important to stay calm when you actually propose. Again, take some deep breaths and focus on the positive outcome. Remember that your partner is likely feeling just as nervous as you are! 

Proposing to your beloved is one of the most important steps in life which is why you need to make sure you have the perfect ring you can find. Pick the right moment and choose the way to do it. Seek help from her friends as they can give you guidance for every little detail and plan everything ahead of time. Finally, when the moment of truth comes, keep your calm to reassure her you really want to do this.