February 1st of 2020 was a very important day for CT wine enthusiasts. This day marked the official release of a new batch of Sunset Meadow Vineyards Bourbon Barrel Aged Twisted Red, a blend of Cabernet, Cabernet Franc, Lemberger, and Chambourcin.
What makes this iteration of Twisted Red so celebrated is its very special barrel aging process. Twisted Red's bourbon barrel-aged edition has the distinction of being aged in the freshest bourbon barrels in its class.
Sunset Meadow Vineyard's collaboration with local distillers Litchfield Distillery allows them a unique opportunity to obtain a barrel that has literally just been emptied of bourbon and immediately transfer their fresh wine into this barrel for one year of aging. The flavor shows through beautifully with an oaky, smokey, delicious bourbon finish. 
The attention to detail employed in producing Twisted Red Bourbon Barrel-Aged can be found across Sunset Meadow Vineyeard's entire line of wines and throughout their winemaking practices. At the release event, General Manager, Chris treated us to a tour of the operations.
Touring the Facilities
It all starts with the vines which are grown in a sustainable method that respects the land without the use of pesticides, herbicides, or added sulfites. The vines rest atop 112 acres of Certified Prime Plus farmland where 40 feet of ground separate the vines from the bedrock below allowing the vines to stay hydrated even in drier years. Grapes are harvested by an automated harvester that is able to sort the grapes by sugar content and select only the best fruit every time.
The facilities are home to two storage buildings and the tasting room, all of which were milking barns on a working farm in their previous life before the vineyard was purchased in the early 1990s. The wine is stored in 3 gargantuan storage tanks during fermentation until it is ready to enter storage in one of many temperature-controlled tanks that are accurate to 1/10 of a degree.
Due to demand, the team is anticipating the acquisition of additional fermentation tanks as well as more property for storage within the next several months. This cold stabilization or cold racking allows the team to only filter the wine once, leaving behind much more flavor ad character than a wine that is filtered more frequently.
The wines are then transferred into barrels for aging, typically French Oak for at least one year. Sunset Meadow Vineyards has made such a name for themselves by this diligent process. The cleanliness of the product and aging practices along with great fruit is what makes their wines so memorable.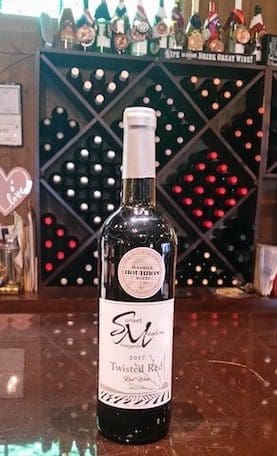 Additional Wines & Information
In addition to the star of the show, Twisted Red, other amazing wines were available. My personal favorites were the St. Croix, New Dawn, Route 63, and Cabernet Franc. For those who enjoy bubbles, you must try the Shades De Blanc with its multitude of tiny, graceful bubbles and those with a sweet tooth can not miss the Cayuga White hot mulled spice wine.
Sunset Meadow Vineyards in Goshen is dog-friendly and open year-round Friday, Saturday, and Sunday: 11am-4:30pm.