In October of 2000, the legendary Blue Bar at The Berkeley in London first opened its doors. The Blue Bar was one of the first to make hotel bars a place to be seen and a  'scene'. To celebrate, the Blue Bar marks this milestone with a special anniversary cocktail, the BB20.
The History of The Blue Bar
The Blue Bar was first unveiled on October 16, 2000. The interior paint, dubbed 'Lutyens Blue', was specially created from 50 different shades. This name is an ode to Sir Edwin Lutyens, a leading British architect who originally designed the wood carvings that appear in the room today.
The Blue Bar has been the place to be for many well known celebrities including Madonna, Zac Posen, Naomi Campbell, Jade Jagger, and Isabella Blow.
The hotel also created a Blue Bar candle in collaboration with Diptyque. The distinctive Figuier fragrance captured the essence of the bar.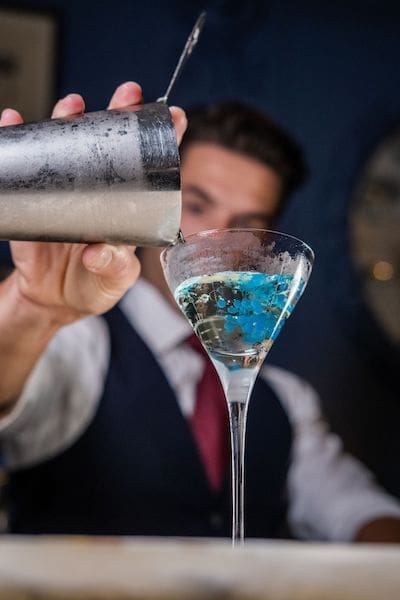 Present Day
Lockdown in March 2020 saw the Blue Bar close for the first time. The Berkeley team started bottling their signature cocktails and took them on the road via the Blue Bar bikes.
The bikes, complete with wicker baskets, arrived on doorsteps ready to mix the lucky household's favorite Blue Bar cocktail.
The Blue Bar Signature Cocktails
A whisky cocktail with caramel notes was created called the BB10 when the Blue Bar celebrated its 10 year anniversary.
For their 20th anniversary, the BB20 is a fruity and floral concoction featuring vodka, jasmine, peach and lime.
The BB20 is bottled in limited edition batches to purchase directly from the hotel.
It is served in the Blue Bar straight, on the rocks, and with soda for a refreshing twist. For for a true celebration, it may be topped with champagne.
The BB20 is currently available at the Blue Bar starting at £19. Limited edition bottles are available from the hotel for £19 (2-3 servings) and £43 (5-6 servings). The Blue Bar operates a no reservations policy. They are currently open from Thursday thru Saturday from 4-10pm.
The Berkeley, set between Knightsbridge and Belgravia in London, is also well known for their a fashion favorite afternoon tea, Prêt-à-Portea.