The Dorchester is the iconic London hotel in the heart of London's Mayfair district. Whether it is to stay the week enrobed in luxury at the five-star hotel or to dine at their flagship restaurant The Grill, a visit to the Dorchester is simply a must.
The Grill relaunched this past November under the helm of one of London's finest young chefs, 26-year-old Tom Booton. This relaunch signifies a new era in the restaurant's 88-year history. His British-inspired dishes like homemade Stout bread, Prawn Scotch Egg, and his take on the classic chocolate treat 'Double Decker' complement the beloved restaurant's fresh new take paired with a more relaxed dining experience.
Describe your background before arriving at The Dorchester and what unique concepts do you bring to the table from previous experiences.
I fell in love with the hustle of the kitchen the moment I stepped through the doors at Le Talbooth, which is in my hometown Colchester in Essex, at the age of 15 when I was sent there on work experience. After five years at Le Talbooth, in 2013 I moved to London and worked for Michelin-starred chef Alyn Williams at The Westbury, then moved to L'Autre Pied under Andy Mcfadden. After two years in London, I left to go travelling and worked in restaurants in New York, Copenhagen and Iceland, which was a particular highlight for me. It is so important to experience how other cultures celebrate food and champion different types of produce. I came back to the UK in 2016 to work for Ollie Dabbous as sous chef. Then I moved back to Alyn Williams as head chef.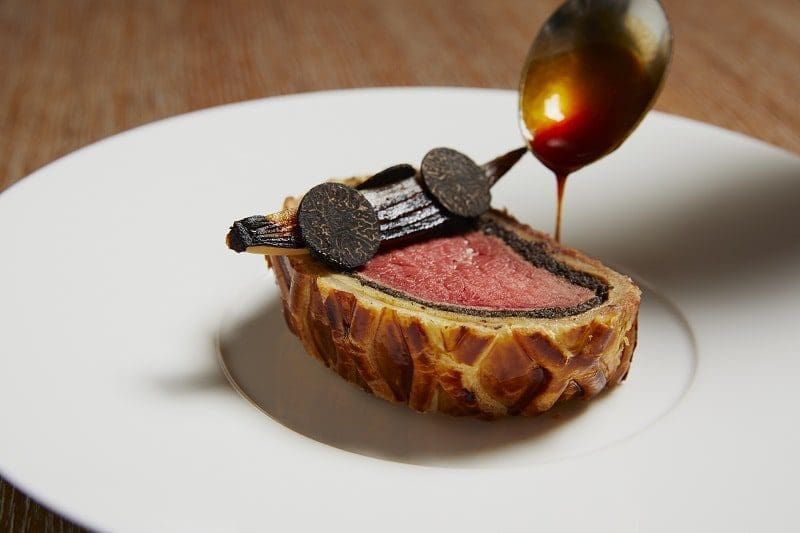 What are your favorite aspects of dining at The Dorchester? 
I love that we have so many exceptional options under one roof: modern British dining at The Grill, traditional afternoon tea at The Promenade, authentic Cantonese cuisine at China Tang and on top of that, we are the only UK hotel with a three Michelin star restaurant: Alain Ducasse at The Dorchester. I feel privileged to have so many amazing chefs working alongside me every day in each of The Dorchester's many kitchens.
What are some of your favorite dishes on the menu? Why?
This is a difficult one! But I would have to recommend the Lobster Thermidor tart as it has become our signature and it is one of my favourite dishes to make. I like to call it "doubly tasty" and it looks as good as it tastes. Our 'Double Decker' is very popular with our guests. This dish is a reinterpretation of a classic British chocolate bar, which also is my favourite chocolate bar, elevated to make a delicious dessert, or as we say in the UK, "pudding". Diners love the element of theatre with this dish as they can get a front-row seat to me and my chefs in action at the Pudding Bar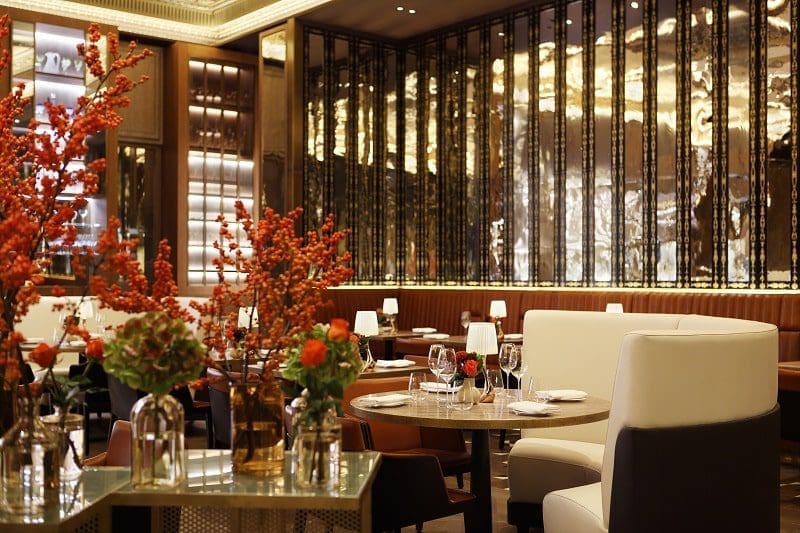 What makes a dining experience at The Dorchester stand out within the high end London dining scene?
At The Grill, we are all about using the best produce and respecting it. Our menu uses some of the best of British produce. We shine a light on London suppliers and British growers, but also challenge diners' perceptions of a classic British grill by reinventing classic grill favourites in a modern way. For example, one of my signature dishes is homemade Stout bread served with black pudding and freshly churned butter. We also have the Prawn Scotch Egg with warm tartar sauce and pickled gherkin on the menu, another example of how we are recreating some of those iconic grill dishes.
Highlighting Your Dining Experience
Before or during your dinner experience, taste the signature cocktail at The Bar at The Dorchester: Gentleman Tom made using The Dorchester's Old Tom Gin. Their signature cocktail is created by award-wining bartender, Lucia Montanelli.
Experience an element of theatre at The Grill at The Dorchester with their statement 'Pudding Bar.' This commences the dining experience as the final course where guests have the opportunity to watch the pastry chefs in action. Pair this decadent experience with a glass of chilled champagne.
The Grill at The Dorchester in London is open for dinner Tuesday-Saturday beginning at 6pm. Breakfast is served seven days a week. Lunch is served Tuesday-Saturday, with the addition of a Sunday Roast beginning at 12:30pm.