Rotunda Restaurant & Bar, located in northern Central London close to King's Cross Station, is a restaurant that is perfectly set away from London's busy streets. With canal-side views and al fresco dining, Rotunda is idyllic for families and couples for a high quality meal for brunch, lunch, dinner, or after hours. The taste of each dish reflects the superior service and presentation that awaits each guest.
A Welcoming & Cozy Design
The extensive waterside terrace is so peaceful, you would never even guess King's Cross and St. Pancras International Station are within a five to ten minutes' walk away. The terrace sits along the edge of Regent's Canal and is home to a beautiful garden. During the cooler months, there is an enclosed area, and cozy blankets and heaters for guests paired with a winter warmer cocktail. This ideal location makes Rotunda Restaurant the perfect dining destination for meeting friends, family, or colleagues before or after your train journey.
The modern interior boasts a spacious dining area and bar, with an open kitchen. The energy from the kitchen seamlessly transfers to the dining room, where guests of all ages pour in quickly to grab their seats. Choose a seat at the counter for the full experience! Rotunda is particularly suited for large dinner parties of six or more, being that there are plenty of opportunities for large-scale seating arrangements.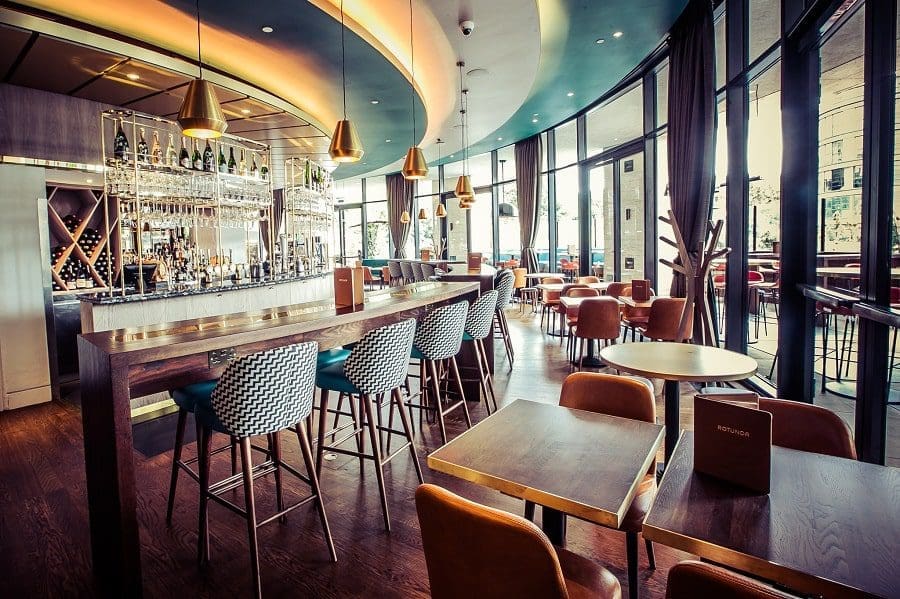 Cocktail Hour
This handsome British restaurant and bar has a strong cocktail menu, wine, and craft beer list. Start your experience at Rotunda at the bar with a glass of champagne followed by a craft cocktail and some bar bites before heading to your table. 
Try a Gin based cocktail, particularly Gin and Tonic with Franklin & Sons tonics, or a Rum based drink with Havana 3 Years Old. Rotunda also has a full Bloody Mary menu.
Favorites available at the bar as platters are Marinated Mozzarella balls with olives and basil, Parmesan Fried Polenta, and Cured Sea Trout Bits with Crème Fraîche Chive Dip.
Sunday Beef Club
In addition to their noteworthy a la carte menu, an experience to savor is their Sunday Beef Club for cutting-edge weekend indulgence all in one afternoon. The Sunday Beef Club is £65 per person, or £45 for food only.
Go for the full experience by starting with a glass of of Brocard Pierre 'Tradition', Champagne NV or a Bloody Mary paired with chef's choice of canapés.
Come to the Sunday Beef Club (very) hungry! The first course is a Seafood platter to share including H.Forman & Son smoked salmon, dressed Cornish crab, peeled Atlantic prawns, 'Bloody' marie rose, and sourdough. The seafood is incredibly fresh and the offering is very diverse.
For the main course, experience the Roast Corneyside Farm sirloin. The sirloin is served with unlimited duck fat roast potatoes, seasonal vegetables, Yorkshire puddings, and lashings of gravy. Rotunda's steak sauce, béarnaise, or bone marrow gravy is served as well.
For your pairing is a half a bottle of wine per person. Wine selections include Sauvignon Blanc/Gros Manseng, Domaine Horgelus or Rioja Joven, Finca Manzanos.
Finish your experience with a dessert of your choice paired with an Espresso martini, Irish coffee or port. Add a selection of British cheeses to share for a supplement of £5 per person.
Side dishes not to skip out on are the Truffle House Chips (£6), or the Orange and Honey Glazed Carrots and parsnips, and sesame seeds (£4.5).
Service was par excellence, rounding out the visit to Rotunda as superb and highly commendable.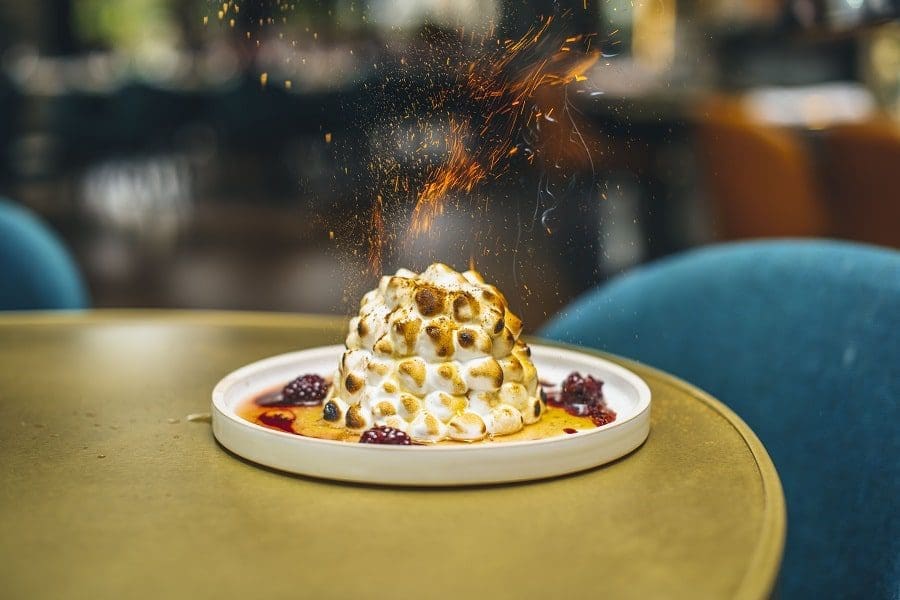 Private Dining
The restaurant is also available for special events and private dining. The private dining room's menus range from family style sharing to an up to six course tasting menu that is influenced by Classic British dishes and Nordic flavors.
Examples of main courses include the Braised Corneyside Farm Beef with sage dumplings; roasted Texel Lamb Neck with green olives and courgettes; and Spiced Pumpkin, Parsnip and Cashew Wellington with cranberry salsa verde.
Useful Information
Rotunda Restaurant & Bar is open seven days a week for lunch and dinner. The bar serves food seven days a week beginning at noon on Monday-Friday, and from 11am on Saturday and Sunday.