Spanning almost 1,800 miles, the Danube is the second longest river in Europe. This mighty waterway originates in Germany and flows through an astonishing nine other countries before finally emptying into the Black Sea in the east corner of the continent. There are many riverside gems to be discovered, from grandiose Vienna to UNESCO World Heritage Site Regensburg, making a river cruise down the Danube one of the most diverse and rewarding ways to explore Europe.
Claiming the title of Pearl of the Danube is Budapest, Hungary's engaging capital which is literally split in two by the river with Buda on one side and Pest on the other. This city has boomed in popularity in recent years, rapidly becoming a favourite haunt of groups of friends and couples alike due to its rich culture and entertaining nightlife. There are benefits to visiting whatever time of year you choose to go, but there is no better time to experience Budapest than in the winter. Discover the highlights of visiting the Pearl of the Danube in December.
Stay warm in the thermal spas
Budapest has over 100 natural thermal springs which have made it a sensational spa destination for years. There are a range of thermal baths to choose from. The most majestic is the Széchenyi Baths which are Turkish in style with elaborate indoor pools and an expansive outdoor bathing area. Let the icy air cleanse your mind while the warm waters soothe any aches and pains in your body.
Ride the festive Fényvillamos
The Fényvillamos is a unique festive favourite in Budapest. Each year, one of the regular tram services is adorned with thousands of electric lights, transforming it into a sparkling city carriage ride that is magical way to explore the city once night has fallen.
Go ice skating at City Park
In the daytime, visit the outdoor rink in City Park for a session of ice skating. This historic rink dates back to 1870 and is amongst the largest in Europe! Wrap up warm against the cold and take in the spectacular snowy scenery as you glide across the ice.
Watch the Basilica light show
Each winter, Budapest's architectural crowning gem, St. Stephen's Basilica, puts on a captivating evening experience. Local folklore and famous religious stories are performed to a backdrop of colourful lights and sounds while 3D animations are beamed onto the front of the building. It really is a spectacle not to be missed!
Tour the Christmas markets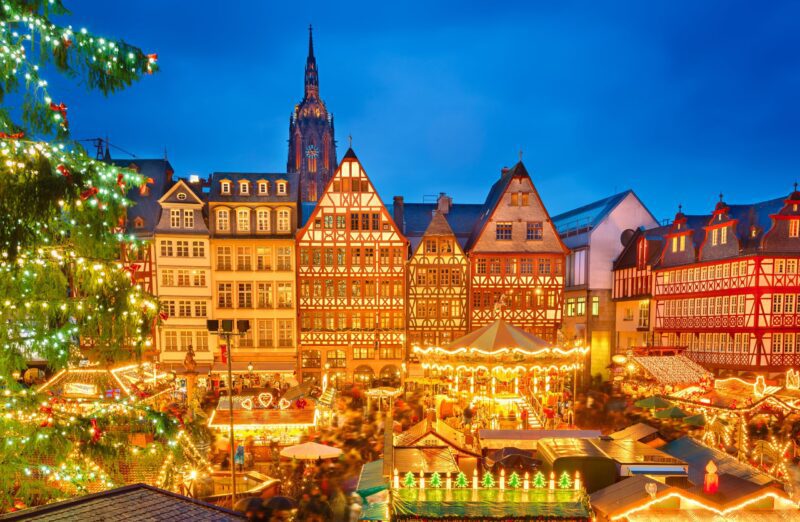 Christmas markets are a staple of most European cities during December, and Budapest is no exception. Tourists can choose to wander the stalls themselves, or you can elevate your experience with a guided food tour. Hungary has several unique delicacies to sink your teeth into. The most loved is a chimney cake and the local street food staple langos. Apart from the delicious dishes, you can buy traditional crafts, paintings, jewellery, and a host of other great gifts and souvenirs.