Restaurants and bakeries from Riverhead to Greenport have mom at top priority for this coming weekend. There are plenty of great Mother's Day specials across the North Fork. The hardest part may be picking which one to order for curbside pickup or delivery. Below are eight specials for our North Fork-based moms that are blooming with comfort and joy.
Green Hill Kitchen & Que
Greenport
Green Hill Kitchen & Que is offering delivery and takeout specials on Sunday, May 10th. $40 per person. Specials include Smoked Ham with Charred Pineapple, Herb-Rubbed Leg of Lamb, and Smoked Prime Brisket. All dinners include spring soup, potato gratin, green beans, and brownie bites. Alcohol add-ons include $15 house bottles of wine, $20 pints of Matty's Margaritas, and $3 cans of beer.
Orders must be placed by Friday, May 8th at noon. 631-477-4900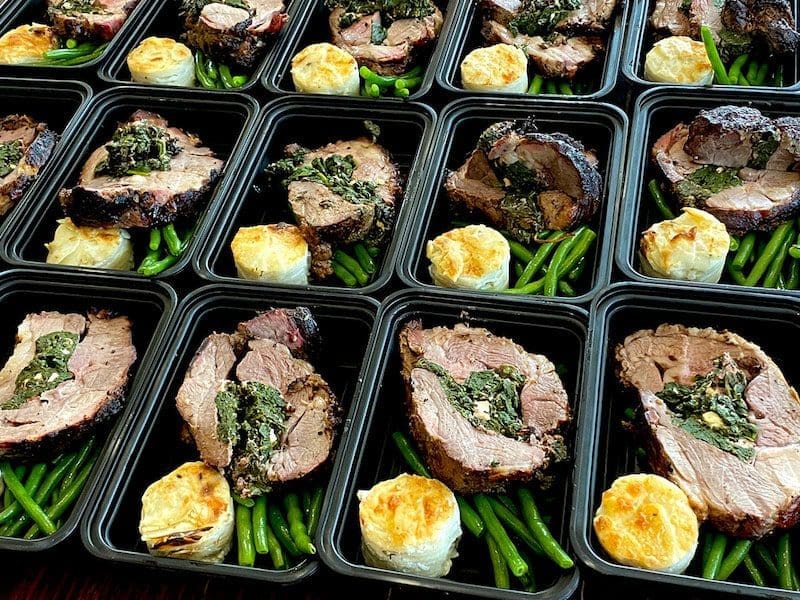 Lombardi's Love Lane Market
Mattituck
Lombardi's has created a Ricotta Toast Kit paired with Wildflower Bunches by Wildflower Floral Events. The Ricotta Toast Kit includes fresh ricotta, local Oysterponds Jam, edible flowers, and a rustic country loaf. They are open for curbside pickup and local delivery Wednesday-Sunday. A wide variety of gourmet groceries is available like fresh pasta, homemade mozzarella, family style dinners, and more. 631-298-9500
Main Road Biscuit Co.
Jamesport
Main Road Biscuit Co.'s Mother's Day selection includes Biscuit-Crust Quiche, French Toast & Oat Pancakes with maple butter, and specially priced local wine add-ons. Wines by the bottle and half bottle include Paumanok Sauvignon Blanc, Raphael First Label Merlot, Ridge Three Valley Zinfandel, Domaine Franck Millet Sancerre, and many more.
They are currently open Thursday-Sunday 9am-3pm and 5-8pm. 631-779-3463
Michelangelo of Riverhead
Riverhead
Michelangelo of Riverhead is offering 25% off catering trays (half and full size), and select $20 wine bottles (red & white). Curbside pickup and delivery is available. They open at 11am, except Sunday when they open at noon. 631-248-3300
noah's
Greenport
For Mother's Day, noah's is offering specials for two, four or six people. Their packages are $45 per person and include a choice of one first and one second course, and one Bridge Lane Bubbles can with North Fork Doughnut Co.'s doughnuts. First course options include Satur Farm Butter Lettuce Salad, and Crescent Farm Duck BBQ. Second course dishes are Spring Vegetable Risotto, noah's Hot Lobster Roll, Coconut Milk Poached Halibut, and Local Seafood Jambalaya.
Pair your Mother's Day Family Special with a cocktail or bottle of local wine. 631-477-6720
Special Effects Salon + Tea
Greenport
Special Effects (SpecialTea House) is offering a Scone + Tea Mother's Day package that includes afternoon tea, scones, orchids, French macarons, cold brew iced teas, and more. Scone selections include plain, lavender with cream drizzle, and lemon currant. Each scone selection is paired with lemon curd, clotted cream, and jam. French macarons include unique flavors like Cherry Blossom, Honey Lavender, and Passionfruit. Freshly brewed iced teas are Black Rose Tea, Peaches + Ginger Black Tea, and Blueberry Green Tea.
A luxurious addition to your afternoon tea are their sugar cubes for $23/box. Varieties include Bouquet Botanical, Blue Cornflower Petal Botanical, Glam Tea Party, and more.
Orders must be placed Friday, May 8th at 5pm for Saturday pickup/delivery and by 5pm on Saturday, May 9th for Sunday morning delivery/pickup. Deliveries will take place both Saturday afternoon and Sunday, the morning of Mother's Day. Porch pickup is also available. 631-566-6944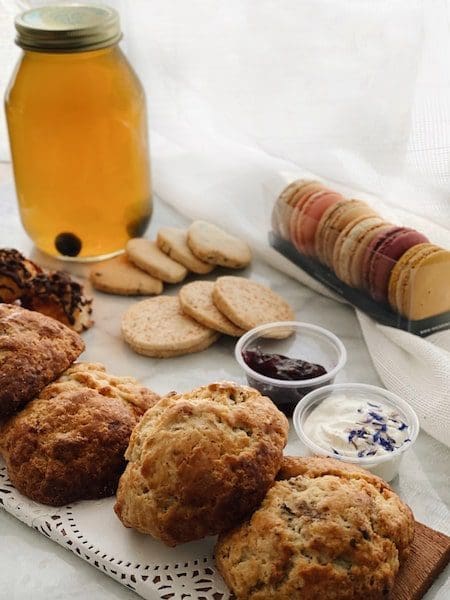 Stonewalls Restaurant
Riverhead
Stonewalls is offering Mother's Day specials for curbside takeout. Specials include Chicken Milanese, Veal Scallopini, Short Ribs, Baked Filet of Salmon, Filet Mignon, Grilled Swordfish, Shrimp over Linguini, and much more. For dessert, choose from Vanilla Almond Cheesecake and Chocolate Mousse. The full bar is available to go including cocktails and bottles of wine.
Place your Mother's Day order before Saturday, May 9th at 7pm. No orders will be taken on Sunday. Their regular curbside takeout menu is available Thursday-Sunday from 12-7pm. 631-506-0777
The Village Cheese Shop
Mattituck
The Village Cheese Shop's "Mother's Day Deluxe Platter" is $150. It comes loaded with Truffle Brie, Truffle Pecorino Moliterno, Midnight Moon (goat cheese), Spanish Marcona Almonds, dried fruits from Europe, and much more. Free delivery is available for Mother's Day Saturday evening, May 9th anywhere on the North Fork. Delivery costs $10 for those outside of the North Fork. 631-298-8556
Click here for Mother's Day takeout and delivery specials in the Hamptons.