Hop to it! We unveil seven restaurants and hotels across London to indulge in a spring or Easter inspired afternoon tea. Plus, we note one celebratory afternoon tea that extends until early September!
11 Cadogan Gardens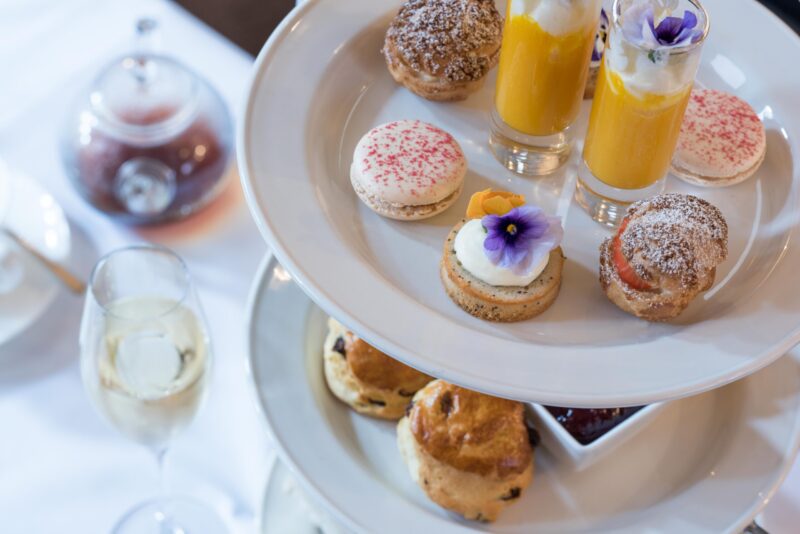 Chelsea's best kept secret, 11 Cadogan Gardens is located just off Sloane Street in the heart of London. Originally built as four separate Victorian townhouses by Lord Chelsea in the 19th century, the hotel has a unique and rich heritage forming part of the historical Cadogan Estate.
The hotel has launched a new Afternoon Tea menu in time for Easter. Enjoy traditional British finger sandwiches, freshly baked scones and delicate pastries with a pot of Partridges' tea. Guests may upgrade their tea experience with a glass of Laurent Perrier Brut Champagne. Guests and non-guests will be able to partake in this British tradition in the comfort of the hotel's Drawing Room.
The Afternoon Tea at 11 Cadogan Gardens is served from Monday to Sunday between 12-6pm.
Brigit's Bakery
Enjoy Easter Afternoon Tea with Brigit's Bakery menu while viewing London's most famous landmarks! High tea accompanied with an array of tasty sandwiches and delicious cakes and pastries. Your London bus driver will take you round, The Elizabeth Tower, The Houses of Parliament, Westminster Abbey, Hyde Park, The Royal Albert Hall, Marble Arch, Nelson's Column, Downing Street, and more.
Brigit's Easter-themed afternoon tea bus tour is running between April 9-17th. The buses depart from either Victoria Coach Station or Trafalgar Square. The Easter Afternoon Tea Bus tour lasts approximately 90 minutes.
The Kensington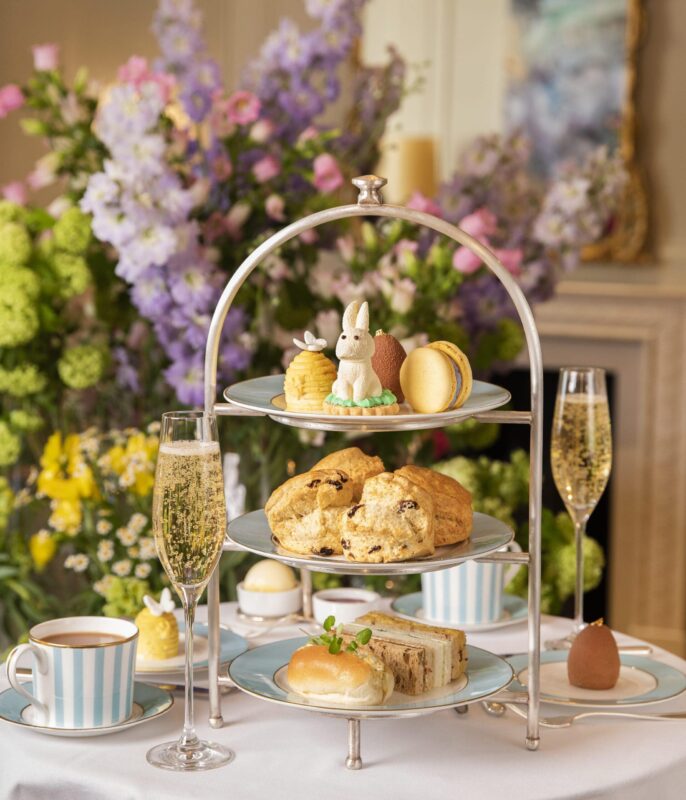 The Kensington hotel is hosting an exclusive afternoon tea specially created with Easter themed delights. The one-weekend-only Easter Afternoon Tea exudes spring spirit with adorable easter bunnies and chocolate easter eggs, served in the most elegant setting.
This delectable feast starts with traditional sandwiches followed by warm scones, lathered with clotted cream and jam. Sweet treats include a buttermilk rose waster white chocolate Easter bunny sprayed with white chocolate on a sable Briton base with green icing grass; a yellow macaroon filled with pea flower vanilla cream and elderflower jelly; Easter egg praline and roasted hazelnut decorated with Easter banner icing sprayed with milk chocolate and honey lemon crushed raspberry beehive shaped mousse.
Situated in the heart of South Kensington, where Queen's Gate meets the Old Brompton Road, the hotel comprises four luxurious Victorian townhouses.
The Easter Afternoon Tea is available at The Kensington from April 15-18th between 12-5pm.
The Lanesborough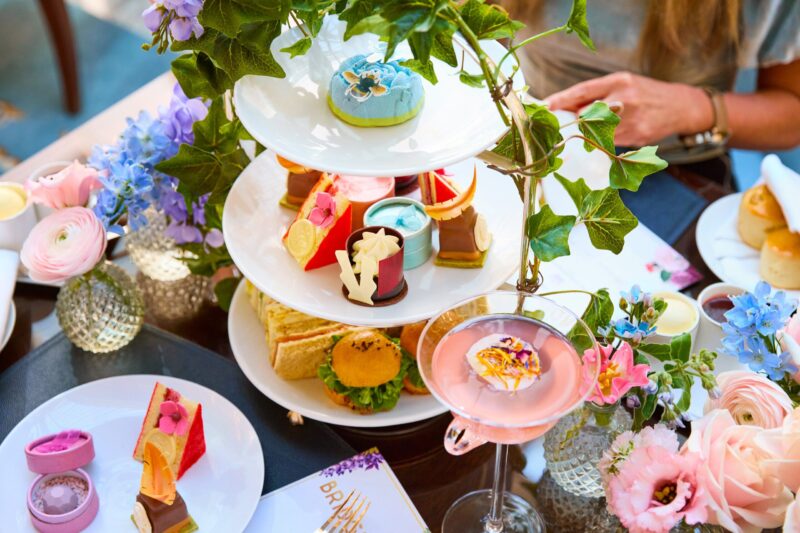 The Lanesborough in London is delighted to announce its seasonal afternoon tea inspired by Bridgerton. A perfect way to celebrate Easter, the limited-edition afternoon tea pays homage to the Regency era: a time of great of elegant parties, balls, and grand dinners.
The afternoon tea menu pays tribute to the key families in Bridgerton. Finger sandwiches and brioche sliders include Coronation chicken, fresh coriander; Clarence court egg mayonnaise, wholegrain mustard; Smoked salmon, horseradish, watercress; Organic cucumber, natural yoghurt, mint; and Rare roast beef slider, black pepper mayonnaise, onion seed.
The Lanesborough's Bridgerton Afternoon Tea will also include delectable scones, cream and jam, as well as five signature sweets by Chef Head Pastry Chef, Kevin Miller. These include The Queen's Diamond, A True Love Match, and of course The Lady Whistledown.
Bridgerton at The Lanesborough will be served until September 1st.
The Londoner Hotel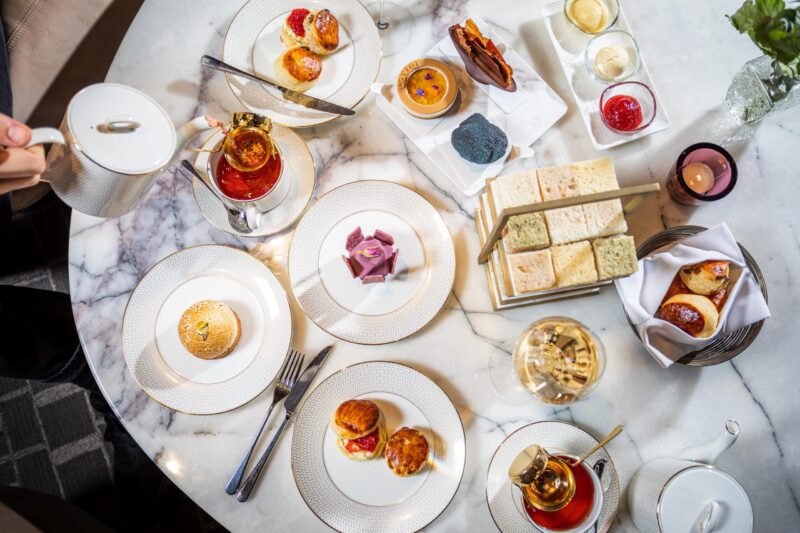 The Londoner, a five-star hotel in the heart of Leicester Square is celebrating Easter weekend in London with The Great Easter Egg Hunt at The Londoner Hotel. On Sunday April 17th, Executive Pastry Chef Dale DeSimone will handcraft five beautifully designed eggs. These eggs will then be hidden around the property.
Guests will be invited to register for the Easter Egg Hunt and then enjoy a glass of Gusbourne Brut Reserve in The Stage, before receiving their first clue. When an egg is found, a selfie is required to declare the discovery before reading the next clue. The first guest or group to find all five eggs will receive an upgrade to a Capital Suite for the night.
In addition, The Stage's signature Easter afternoon tea will be available Friday, April 15th to Monday, April 18th from 1-5pm. The afternoon tea will start with a limited-edition amuse-bouche of elderflower sorbet with yuzu caviar, cucumber, and caramelised white chocolate.
Peggy Porschen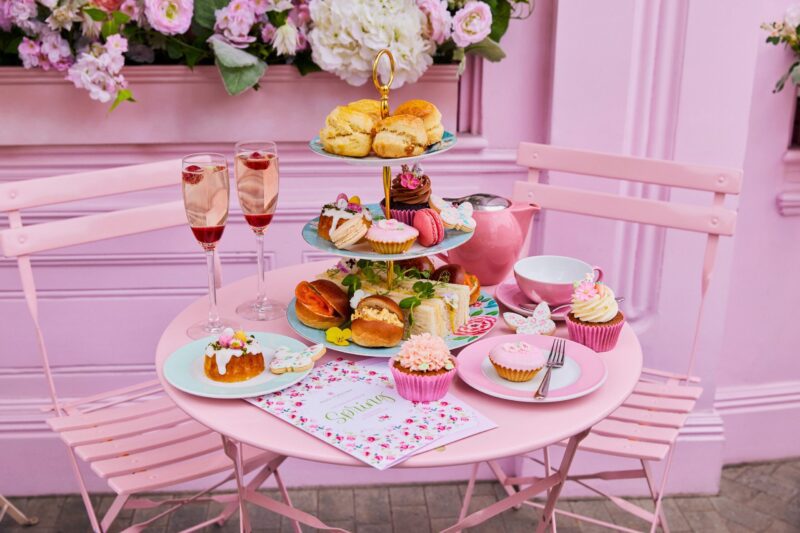 Peggy Porschen has unveiled their '
Darling Buds of Spring
' Afternoon Tea menu just in time for Easter. Guests will enjoy the fresh flavours of rhubarb, strawberry & custard, and carrot & lemon. For Easter, Peggy's Porschen has created adorable, seasonal cupcakes. These include a Carrot & Lemon Cupcake and Easter Chocolate Heaven Cupcake.
Guests may pair the cake stand with a selection of Peggy's exclusive blend of teas & infusions and of course some prosecco or perhaps a raspberry mimosa for the perfect seasonal toast.
Afternoon Tea at Peggy Porschen will also be served with a selection of five finger sandwiches, scones with Cornish clotted cream and jam, and a macaron of choice. A vegetarian and children's menu are also available.
Shangri-La The Shard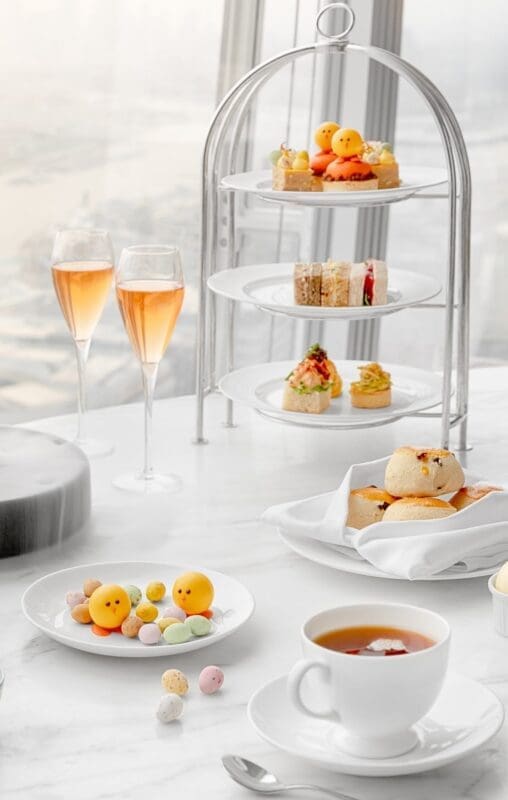 For this Easter in London, TĪNG Lounge will be serving an Easter Edition of its Skyline Afternoon Tea. Following an Earl Grey, Strawberry & Lemon welcome tea experience, guests will enjoy a spread of savories. These include Easter Lamb Croquette, Yam Potato Choux, Lobster Roll and Marinated Courgette & Almond Tart as well as traditional finger sandwiches.
Pastries consist of fruity Lime & Blueberry Tart, Tonka, Vanilla & Strawberry Gateaux, and a sensational Chocolate and Raspberry Easter Egg to share, amongst classic plain and fruit scones. The afternoon tea is served with a glass of Nyetimber sparkling wine or The Platinum Fizz cocktail.
The Jubilee Party mocktail is available as a non-alcoholic option. It is made with Strawberry Purée, Pineapple, Gomme Syrup, Lemon Juice, Basil Leaves, and Soda. This Easter Afternoon Tea is available from April 12-18th.