Southampton Inn in the heart of Southampton Village invite Hamptons locals, guests and visitors to a celebration at the kick off the Hamptons summer season at their 2022 Annual Memorial Day Weekend BBQ.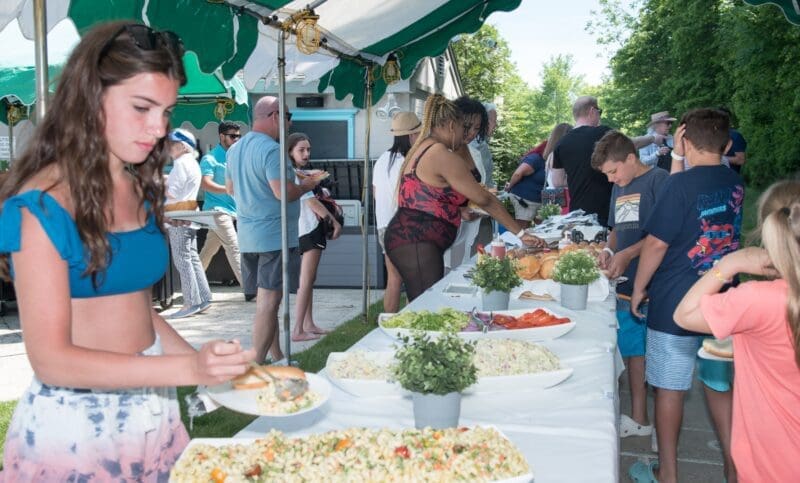 Guests celebrated the holiday weekend al fresco at the pool patio surrounded by several acres of manicured lawns and private gardens. They enjoyed a buffet of signature burgers, platters of traditional salads and tasty treats. These included grilled chicken and duck prepared by Claude's Restaurant under new Chef Giancarlo. The pool patio bar boasted a wide selection of chilled refreshments to sip under the sun.
Notable attendees included: Dede Gotthelf, Terri Moan, Philip Gotthelf, Paula Gotthelf, Leesa Rowland, Jean Shafiroff, Noreen Donovan-Roth, Larry Wohl, Neil Sadick, Nancy Pearson, Vanessa Gordon, and Bradford Rand.
About the Southampton Inn
The award-winning Southampton Inn is home 90 guest rooms and is located in the heart of Southampton Village. Hotel amenities include an all-weather tennis court, heated 50-foot swimming pool, shuffleboard court, an indoor game room, Ping Pong table or the ample green space for croquet, volleyball or badminton. Southampton Inn is also a pet friendly hotel in the Hamptons.
The hotel is also home to an onsite restaurant named Claude's that serves breakfast, lunch, and dinner year round.
The friendly and efficient staff at Southampton Inn can assist busy travelers with a selection of exciting local excursions. These include restaurant reservations, tours at art galleries, museum passes, and much more.
Southampton Inn guests can access the complimentary beach shuttle service to the renowned Coopers Beach. The Inn also partners with local organizations to offer tickets to charity events and galas.
Guests can indulge in the finest wines at local vineyards. Plus, Agawam Park, Avram Hall and the Cultural Center hosts weekly concerts for visitors. Golf tee times, surfing, tennis lessons, plus hiking trips at nature conservancies are just a few experiences the entire Southampton have to offer; all carefully selected for Southampton Inn guests.