For those coming home to the South Fork this summer season, you may be curious as to which takeout dish you should to try first. Several Hamptons-based locals reveal their favorite hamptons takeout dishes from restaurants across the region, from Westhampton Beach out to Montauk.
668 The Gig Shack
Montauk, 631-668-2727
"The Gig Shack's Lobster Roll and cupcakes!" Lewis Gross 
Almond
Bridgehampton, 631-537-5665
"Ramen Thursday's at Almond! They are also doing Halal Cart Saturdays, and there are usually two options for each. This week's Halal Cart is Chicken Kabobs or Lamb Shawarma served with rice and naan, which serves two. Ramen this week was pork belly, curried chicken, or roasted mushroom." -Carolyn Stec
Astro's Pizza
Amagansett, 631-267-8300
"Amazing specials. Killer pasta. And if you want to order clean, try their Salmon and Broccoli! Divine! PS, GARLIC BREAD!" -L Brook Spencer
"GREAT Italian dishes. My favorite is the homemade gnocchi." -Zanetta Classens
Baby Moon
Westhampton Beach, 631-288-6350
"My favorite go-to restaurant in Westhampton Beach is Baby Moon. They make the best spinach fettuccine with spinach in garlic and olive oil. Scrumptious!" -Leesa Rowland
Bostwick's Chowder House
East Hampton, 631-324-1111
"The Lobster fritters, coconut shrimp, and broiled flounder always fresh and delicious and consistent." -Marie Gallagher
"You can't go wrong with the fish tacos from Bostwick's!" -Krissy Feleppa 
"I always enjoy their baked clams as well as their swordfish with fingerling potatoes. Always fresh and delicious! And don't forget the soft serve ice cream to finish it off (if you have room)!" -Pamela Connors Schenck 
The Blend at Three Mile Harbor
East Hampton, 631-527-7753
"Chef Luis Deloera of The Blend offers a $30 prix fixe menu of incredible 3-course contactless, take home meals. We love too many of the dishes to pick just one. Check out their $30 prix fixe menu!" -Michael Schenkler 
"The Blend has consistently provided amazing meals! Everything on their menu is great. The steaks are amazing and their Asian dishes are so good!" -Cam Moody Gelb
Claude's Restaurant
Southampton, 631-283-6500
"One of our new favorite dishes this season is a roasted turkey sandwich, prepared with Provolone or Havarti cheese, baby arugula, chive mayo on freshly baked baguette with a fresh fruit smoothie! It's from Claude's, who is now offering an all American picnic basket." -Dede Gotthelf
The Coast Grill
Southampton, 631-283-2277
"One of my favorites is The Coast Grill in Noyac. All of their food is amazing!" -Linda Christiansen-Wheeler 
Cove Hollow Tavern
East Hampton, 631-527-7131
"My favorite dish was a Rice Bowl from Cove Hollow Tavern. It came with firecracker shrimp, avocado, cucumber, cashews. We also had appetizer lobster tacos. And a lamb burger with harissa sauce. All fab." -Lys Marigold
Estia's Little Kitchen
Sag Harbor, 631-725-1045
"Estia's for lunch! So few places are open for lunch right now! They even do a taco platter to go. All you have to do is heat it for dinner!" -Carolyn Stec
Gators
Hampton Bays, 631-728-4100
"Gators has amazing quesadillas, wings, and drinks, AND prices!" -Tara Bastiani
"I love all of the steaks, wings, and burgers! Awesome salads!" -Diane Gise
Harbor Market & Kitchen
Sag Harbor, 631-725-4433
"Falafel with pita from Harbor Market!" -Nicole OG
Hampton Gyro and Grill
Hampton Bays, 631-856-4101
"A Gyro from Hampton Gyro. They are oversized, delicious, and came with a nice handwritten note on the bag. You can order online and have easy no-contact pickup." -April Cullum Lopez 
Harvest on Ford Pond
Montauk, 631-668-5574
"The Seafood Bruschetta & Calamari Salad! I can't forget spicy margaritas to go, and their delicious bread is to die for." -Vivian Farcas 
Highway Restaurant and Bar
East Hampton, 631-527-5372
"Chicken Pot Pie and cookies from Highway. They also have a family format to feed everyone at once!" -Carolyn Stec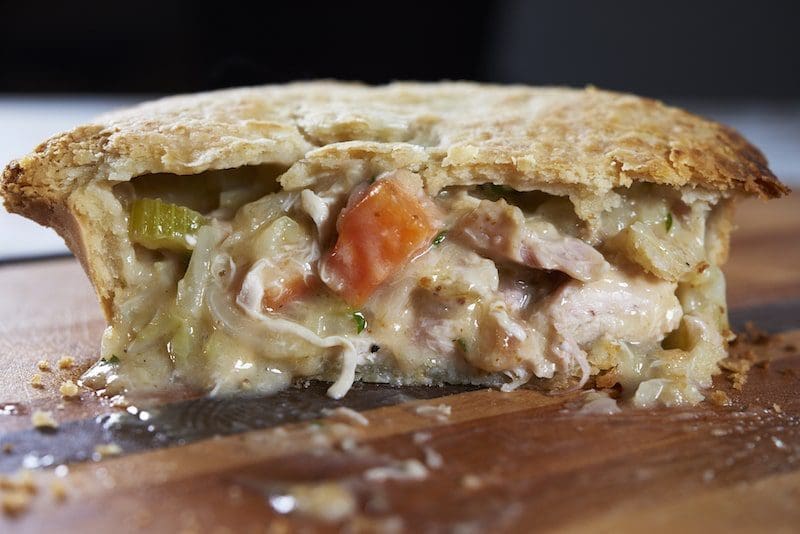 Il Capuccino
Sag Harbor, 631-725-2747
"There are so many great restaurants on the East End but one of my favorite is Il Capuccino's in Sag Harbor. I love their baked ziti and carbonara but it's hard to choose a favorite. They've been part of the community for a very long time and what I love most are the reasonable prices, consistently good food, amazing garlic rolls, and the fact that I always see someone I know there! It's like eating with family." -Barbara Strong Borsack
"One of my favorite places. They are always consistent. I have never had a bad meal and you can make reservations for four or more! Love their baked clams, salads and Shrimp Parmesan. Cannot leave out the awesome garlic rolls." -Pamela Connors Schenck
"Linguine Carbonara from Il Capuccino (with their rolls of course)." -Nicole OG
John Papas Cafe
East Hampton, 631-324-5400
"You can't beat grilled chicken over Greek salad at John Papas!" -Karen Rodriguez 
La Fondita
Amagansett, 631-267-8800
"I have my favorite dishes by hamlet. For me, La Fondita's Carnitas Tacos are a must." -Jayma Cardoso
Rowdy Hall
East Hampton, 631-324-8555
"You cannot go wrong at Rowdy Hall. They have a great variety of super delish food." L Brook Spencer
RUMBA
Hampton Bays, 631-594-3544
"Rastaman tacos and shrimp tacos with a side of roasted garlic Caesar Salad from RUMBA. I could eat it everyday." -Dana McCall
"Rastaman (avocado) tacos are one of my favorite comfort foods." -Kassandra Watkins
Ryders Rancheros
East Hampton, 631-329-2500
"Chilaquiles from Ryders Rancheros: spicy and amazing." -Mary Waserstein
Sam's Restaurant
East Hampton, 631-324-5900
"Bonac Pizza from Sam's Restaurant. Obsessed. Chopped clams, crab and shrimp on pizza. Can't get more local than that!" -Jen Grossbach
Sant Ambroeus
Southampton, 631-283-1233
"Sant Ambroeus makes the most delicious birthday cakes and we have picked up their amazing cakes from time to time. They also make wonderful fish, chicken, and pasta entrees." -Jean Shafiroff
"My perfect day of eating in the Hamptons includes lunch at Sant Ambroeus with a latte." -Randy Zelin
Scarpetta Beach
Montauk, 631-668-1771
"I have a simple pallet, but I must always have the Halibut at Scarpetta Beach. It's paired with fennel and carrots, and these veggies just add to the delicious flavor and make for a perfect combination." -Fran Paniccia
The Surf Lodge
Montauk, 631-483-5041
"I'm pretty much addicted to the Watermelon and Feta salad that we have at The Surf Lodge." -Jayma Cardoso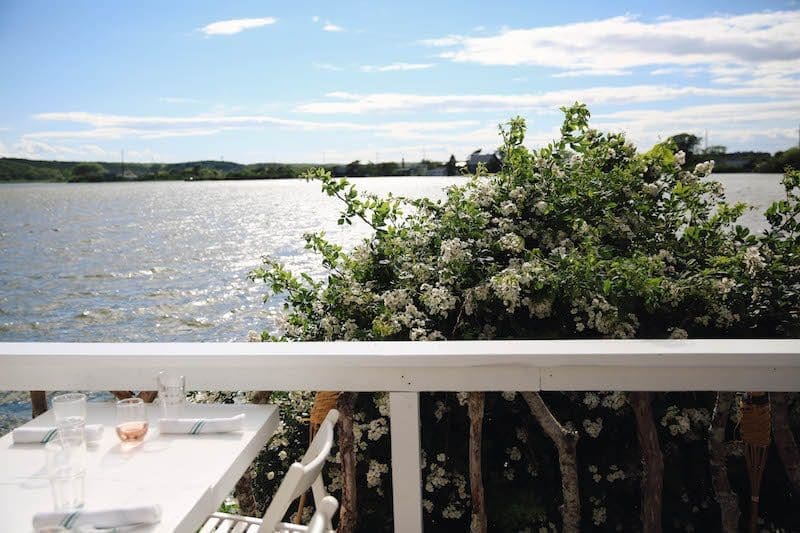 Swallow East
Montauk, 631-668-8344
"At Swallow East, there is a Shrimp and Grits bowl that thrills me every time. The grits are perfectly creamy, the sausage perfectly spiced, and the shrimp so fresh! I can't think of any other place I can get a dish such as this one. The fried calamari with thai sauce and crunchy peanuts never fails to impress either." -Michelle Walrath
Tutto Il Giorno
Southampton, 631-377-3611; Sag Harbor, 631-919-5353
"Tutto Il Giorno has wonderful pasta and a great roasted chicken dish for hamptons takeout." -Jean Shafiroff
"Rigatoni with peas from Tutto Il Giorno. 100%!" -Liza Tremblay 
Yama-Q
Bridgehampton, 631-537-0225
"The sushi is always extremely fresh and delicious. We also love their duck quesadillas." -Jean Shafiroff
Based on or heading to the North Fork soon? Check out these favorite dishes you may want to try next.
A special thank you to the Facebook groups East End Take Out and Bonac Eats for your support in making this favorite Hamptons takeout article possible!