Connecticut is a spooky state in the best possible way. It is the site of the first American Witch Trials, predating those to occur in Salem by 30 years. The state is home to dozens of purportedly haunted cemeteries and churches and several abandoned hospitals and sanitoriums. Allegedly, these locations are still full of residents who have long since passed.
Pumpkin Patch Trolley Rides at the Connecticut Trolley Museum
The CT Trolley Museum in East Windsor, CT is a fantastic day trip for families in its own right. But each fall, something special happens. Every October, the museum offers a pumpkin patch trolley ride. Weekends through October 30th, guests are invited to ride the trolley out to the pumpkin patch and select their favorite pumpkin.
Upon return to the museum, guests can decorate pumpkins, enjoy face painting, and visit the museum including the additional Fire Truck Museum on-site. Trolley rides are unlimited. Children 2-11 are $5. Children under 2 are free.
The Ride at Pumpkintown USA – Drive-through
For those who prefer a socially-distant Halloween activity, consider the Pumpkintown Drive-through! This one-mile drive in East Hampton allows guests to view the fanciful scenery and inhabitants of "Pumpkintown Forest" from the safety of their vehicles. Snacks available are apple cider donuts, popcorn, and fresh cider.
Be sure to visit Pumpkintown USA's Harvest Store and Garden Center located across the street for pumpkins, produce, and fall decor to take home with you. Reservations are available weekends until October 31st.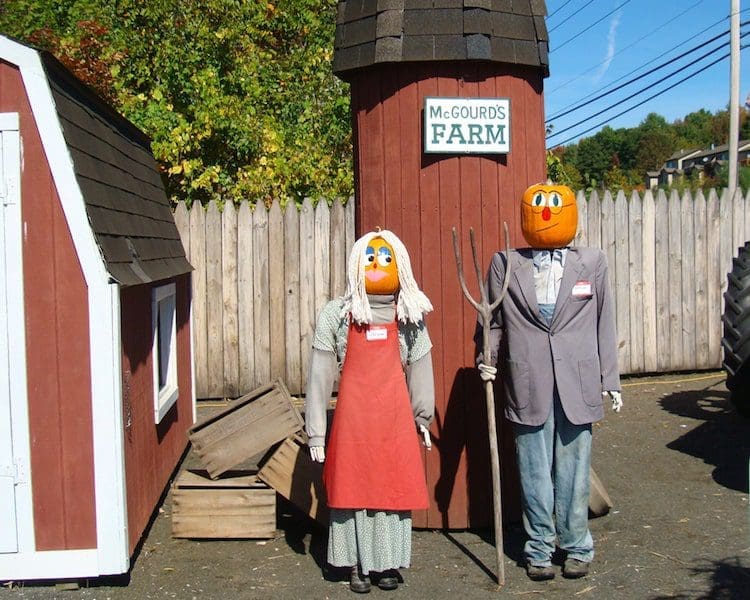 Harvest Festival at Buell's Orchard
Join the Buell Family for their annual Orchard Harvest Festival in Eastford, CT. The festival takes place on October 9th and 11th, 2021 from 10am-4pm. Enjoy hayrides, apple picking, pumpkin picking, seasonal treats, and live music.
"Hocus Pocus" Outdoor Film Screening in Pitkin Plaza
Parents, what better way to enjoy Halloween than to share a true Halloween classic with them? Pitkin Plaza in New Haven, CT will be offering an outdoor movie screening of Hocus Pocus October 14th at 8pm. This showing is part of the Movies in the Plaza series to occur each Wednesday at 8pm until October 28th. Other seasonal showings include Casper on the 7th, The Addams Family on the 21st, and Beetlejuice on the 28th.
West Hartford Hauntings at Old North Cemetery
What could be better than hauntings with a side of history? West Hartford historic district is home to the Noah Webster House and the Old North Cemetery. Join the West Hartford Historical Society for a guided, theatrical, candlelit tour of Old North Cemetary.
Tours are available on Friday, October 29th, and Saturday, October 30th, with tours departing every 15 minutes from 6-8:45pm. The tours run for 45 minutes.
Ghost Boat Tour " Shoreline Epidemics" with Seaside Shadows
Experience the darker side of the Thames River of Groton and New London, CT with a moonlit river cruise hosted by Seaside Shadows. The subject to be explored on this historical haunted river tour is chillingly apropos: the history of pandemic diseases that spread through the towns surrounding the Thames River and how residents handled them with sea burials and lighthouse quarantines.
Tours depart Friday, October 15th at 4:30pm on the Thames River Heritage Boat. The tours goes until 5:45pm.