From NYC's 'most interesting burger combination' to the classic at a hidden favorite, these are some of the best burgers across the Big Apple. Several of the best NYC burgers are crafted with sustainable ingredients so you know you're supporting local purveyors and farms.
The Best Burger in The West Village: The Fedora Burger at Bar Sardine
This tiny West Village spot is a go-to for first date drinks, so it's possible you didn't know it also serves up a pretty fantastic burger.
Instead, bite into the Fedora Burger named after the owner Gabe Stulman's other spot a few doors down. This bite has easily the city's most interesting burger combination of a juicy Pat LaFrieda patty, layered with smokey cheddar and drizzled with BBQ mayo, tangy pickles, crisp red onions, sandwiched between a toasted flat bun.
It's smokey and sweet and it pairs perfectly with crispy delicate shoestring fries.
Bronson's Burgers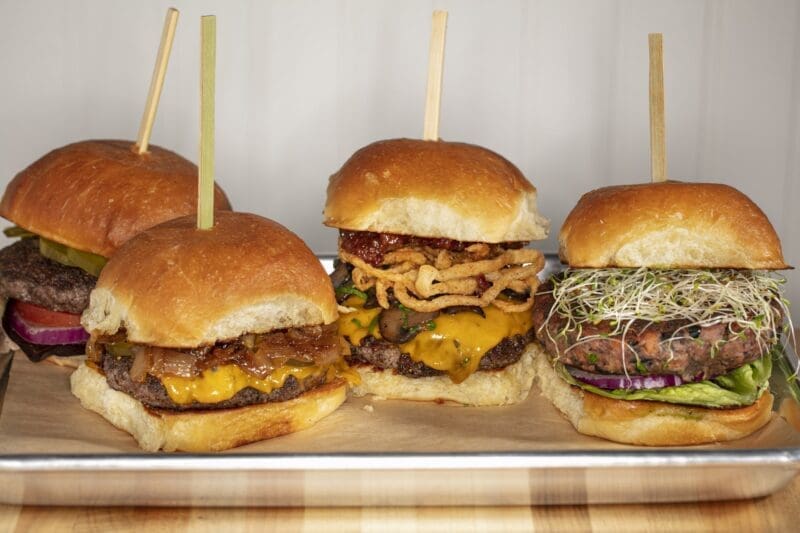 Bronson's Burgers is a burger-focused restaurant alongside craveable fries
and over-the-top milkshakes in the former Torrisi space on Mulberry Street. All of the burgers are made with Golden Meat Purveyors' special grass-fed beef blend, and served on the choice of a brioche bun, gluten-free bun, or lettuce wrap.
Bronson's Signature Burger, for example, is crafted with house made bacon marmalade, cheddar, mushrooms, and crispy onions. Another is Bronson's Classic Burger, made with caramelized onions, cheddar, and pickles.
The Burger at Raul's
Thrillist's National Burger Critic once called this burger the Best in Manhattan. And it's a hard burger to get your hands on, as only 12 are made every night. You can only get these burgers at the bar, and you'll want to get there a little before the kitchen opens at 5:30 p.m. to get a bite.
The brisket-heavy patty is perfectly seared and topped with rich triple-cream Saint-André, cornichons, tangy red onions, and peppery greens, wrapped in a soft challah bun.
The Bomba Burger from Scampi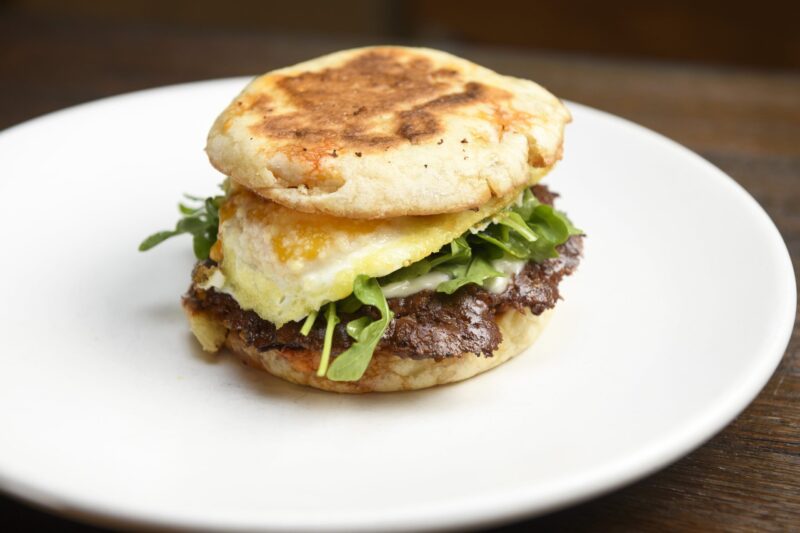 Scampi is a coastal Italian restaurant in NYC's Flatiron District from chef PJ Calapa. Scampi's menu features raw seafood dishes, handmade pastas, and seasonal vegetables that are all sourced from local farmers and seafood purveyors through the Northeast.
The Bomba Burger is available on Scampi's weekend brunch menu and comes with mozzarella, a fried egg, arugula, and house made Bomba sauce.
Chargrilled Burger with Roquefort at The Spotted Pig
This famous chargrilled burger with Roquefort is served at April Bloomfield's Michelin-starred restaurant. This is a real bare-bones cheeseburger and one of the best burgers in NYC. Meaning there is no lettuce, onion or tomato, and you don't need those fixings.
Instead, you get a super thick organic beef patty topped with deliciously stinky cheese, wrapped in a freshly baked bun with crisscross branded grill marks. Just make sure you don't fill up with the mountain of shoestring fries that come with this tall burger.
Sebastian's Steakhouse Burger at Brindle Room
The menu at Sebastian's Steakhouse in NYC is full of comfort food like pork confit poutine, chicken wings, and spaghetti with meatballs. But what you can't miss here, is the Steakhouse Burger. It's incredibly simple with a patty that is a dry-aged blend of steak trimmings, ground beef, and the fatty part of a rib eye.
The patty is slightly charred and topped with sweet, caramelized onions and salty American Cheese. You don't need any extra sauces, just some ketchup and extra napkins.
The Emmy Burger at Emily
Another can't miss Brooklyn Burger at an unexpected spot. Emily is known for thin-crust pizza. But what you want to do is order your pizza on the side of your burger.
Chef Matt Hyland has made the perfect dry-aged burger using different butches and different ways of preparing it.
Today this burger is made with a dry-aged Fleisher's patty, dripping in Grafton Cheddar, topped with sweet, caramelized onions, and buffalo-like Emmy Sauce, sandwiched in a Tom Cat pretzel bun.
Only one thing, both the Manhattan and Brooklyn Emmy locations serve up a limited amount of these burgers every night, so you want to get there early.
Cheeseburger at J.G. Melon
This uptown burger is an oldie but a classic. This corner tavern has been making the best burgers in town in 1972. Each eight-ounce medium-rare patty is griddled diner-style on a flat top.
The burger is served open-faced topped with melted American cheese on a lightly toasted bun with all the classic fixings.
Cheeseburger at Burger Joint
This midtown west burger can be found at the hidden spot in the upscale Parker Meridien. This burger is a perfect re-creation of patties served in 1972.
You'll feel like you're in 1972 as you slide into this spot's vinyl booths and take a bite of this burger topped with iconic ingredients like Arnold's buns and Heinz ketchup
These burgers are perfectly juicy but still charred and they're one of the more affordable burgers in the city.
The Valerie Signature Burger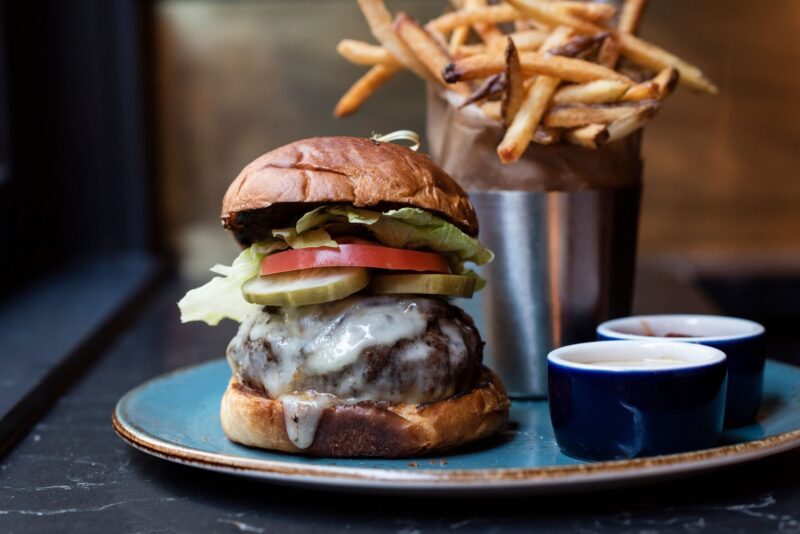 Considered to be one of the best burgers to try in NYC, the Valerie Signature Burger includes grass fed Brandt beef, white cheddar or American cheese, and French onion jam.
Valerie is a new bi-level cocktail bar and restaurant. The establishment is located on West 45th Street that evokes the golden era of Manhattan. Valerie offers a timeless drink list, bistro-inspired menu, and Art-Deco-inspired decor, with inspired updates for modern crowds.