Some of the best eats in the world can be found in big, multicultural cities such as London, and that's not surprising when you consider that the Office for National Statistics state that there are over 7,000 restaurants across the capital city. That's just under 10% of the total number of food establishments across the UK, according to Statista.
London is a city that attracts around 30 million visitors from around the world each year. There are also a significant number of sports fans flocking to the capital each week to attend sporting events, especially football. If you add up the average attendance numbers of each of the Premier League clubs based in London who attend games each week, it's above a quarter of a million. However, if they restricted themselves to just eating at their favorite stadiums, not only is it expensive, it's far from the greatest cuisine on offer in the capital. To avoid disappointment on your next visit to a football match, we've compiled a list of some of the best places to eat near the homes of some of London's most iconic teams.
Arsenal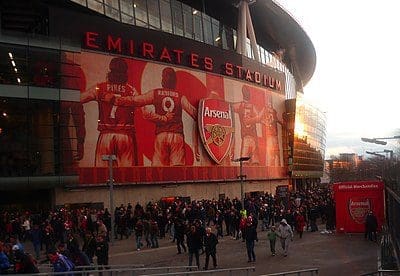 One of the best places to eat in close vicinity to the Emirates Stadium is so close it's almost within a stone's throw of the ground. Xi'an Impression sells some of the finest offerings, which are inspired by foods typically found in Xi'an City in China. There are some particular standouts, the biang noodles are delicious, but if you fancy a burger, then the Xi'an burgers smeared in the restaurant's special sauce are fantastic.
Crystal Palace
Tasty Jerk is a staple for many fans of football who attend games at Selhurst Park. They sell some fantastic Caribbean style offerings with goat, chicken and pork all on the menu. There's something for the lover of spice with chili infused with Scotch bonnets. Or, if you prefer something with a little less kick, why not supplement your meat with some fragrant rice and peas.
Fulham
While Fulham may not be in the top flight just yet, Craven Cottage is widely expected to be a Premier League ground next season. They're currently favorites for promotion in Coral's Championship football odds. However, whilst that journey is ongoing, they're well set for the top flight when it comes to eats; Santa Maria Pizzeria is a standout with a wealth of choices and some good beverages too. It's placed between the homes of Fulham and Chelsea, who are tipped for glory in the Premier League this year, which leads us nicely onto the next place on our list, which is just up the road in West Brompton.
Chelsea
In West London there are so many places to eat, it's one of the more affluent areas of the city, and it shows in the food available. Chelsea are arguably the best team in London, and they're favorite with some to lift the Champions League title as well, adding a European flavor to their trendy vibe. However, when it comes to food around the ground, a traditional British establishment is right up there. The Harwood Arms is terrific; although it's a pub, it's got a menu quite far from the traditional grub you'd expect, from pollock on toast to a venison Scotch egg. When you realize it's the only pub with a Michelin star, then it has to be a little different.
West Ham
Over in the shadow of the former Olympic Park, between the Hereford Canal and the River Lea, is a little boat that serves some terrific pre-match treats. It's almost unthinkable when you see and taste the food quality it's been made on a barge!
The set Saturday Lunch is a great choice. It features two courses for just £35, no matter if you sample the delicately cooked scallops, roasted duck breast or their decadent dark chocolate sorbet desserts.